Here is an interesting feature that is hidden within Vista. By creating this registry key:
HKEY_CURRENT_USER\Software\Microsoft\Windows\DWM
And then create the value: AnimationsShiftKey (DWORD) and setting it to 1
You can slow down windows animations by pressing the shift key. This is the the animation you see when minimizing, maximizing or closing the window.
This only works if you have the aero interface turned on.
Here is a program that will set the key for you.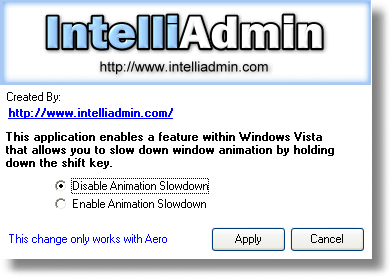 Download it here – As always we promise that the download does not contain any spyware, adware, or viruses. Only freeware goodness!
One more thing…Subscribe to my newsletter and get 11 free network administrator tools, plus a 30 page user guide so you can get the most out of them. Click Here to get your free tools