Microsoft plans to ship the new Longhorn server and Vista Service Pack 1 at the same time next year. Microsoft plans to release one more CTP (Community Technology Preview) of longhorn later this year, one in early 2007, and a final Beta 3 in the middle of 2007.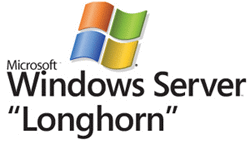 Rumors that the new server would be officially named "Vista Server" have been shot down by Microsoft. Bob Muglia, Senior VP at Microsoft said: "No. Longhorn is not going to be renamed Vista Server. We will announce the official name when we release Beta 3, which is on track for the first half of 2007."
It is also speculated that they may name it Windows Server 2007, this would keep in line with their previous server products.
One more thing…Subscribe to my newsletter and get 11 free network administrator tools, plus a 30 page user guide so you can get the most out of them. Click Here to get your free tools