VMWare released its latest in its line of betas for MacOSX this week.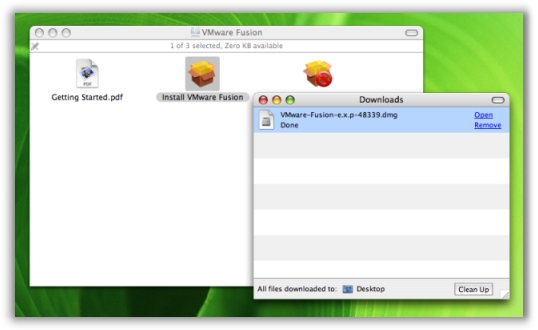 This release is more stable than ever, and I would highly recommend to anyone with a Mac to download and try this latest release. With this version I am able to easily run three or four virtual machines at a time (Usually a server, and a few workstations). This is with my low end Macbook. (I admit I do have 2GB of ram) I can't imagine how well it would work with some of the higher end Mac hardware.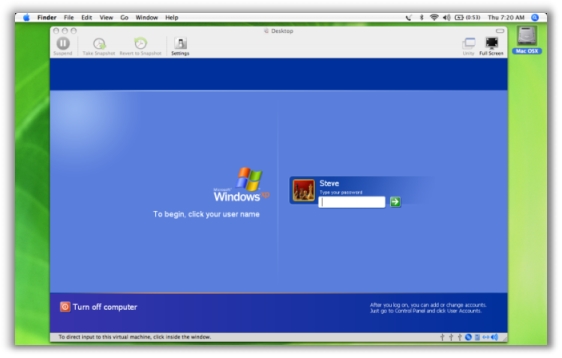 To be honest with you I can't understand why Vista runs faster running in a fusion VM compared to it running for real on this same machine. I haven't done any verifiable testing to see if I am right, so it could still be in my imagination.
To download a copy simply visit the beta registration page and you will be downloading in minutes.
The new feature in this beta that has me excited is called Unity. It allows Windows apps to run seamless with OSX software. Here is an excerpt from the release notes:
Unity — The seamless way to run Windows applications: Run Windows XP applications alongside your favorite Mac applications and switch between any open application with command-tab or Exposé. Leave the Windows desktop and Start menu behind and use the VMware Fusion Launch palette to quickly find and launch your Windows applications. Save your favorite Windows applications to the Mac OS X Dock. Even use familiar Mac keyboard shortcuts to seamlessly copy and paste between Windows and Mac applications.
If you have tried previous betas you will need to upgrade the client's VMWare tools to access the Unity feature. Make sure you reboot, or risk crashing the client OS.
The final version is to be released sometime in August 2007. You can pre-order a copy for half price for a limited time.
One more thing…Subscribe to my newsletter and get 11 free network administrator tools, plus a 30 page user guide so you can get the most out of them. Click Here to get your free tools