Last week Symantec revealed software that provides a firewall, blocks spam, and protects against viruses for smart phones.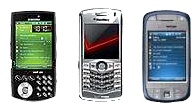 Named Norton Smartphone Security, it combines Norton AntiVirus technology, a firewall, and anti-spam for messages sent via SMS.
The software is compatible with smart phones that run Windows Mobile, and Symbian operating systems. The anti-virus feature can detect mobile viruses, and prevent users from accessing infected files. The firewall inspects all incoming and outgoing network traffic.
Similar to their desktop products, the software will run in the background and will allow users to perform all of their normal functions.
It costs about $30, and can be purchased from their online store.
I have not had a chance to try it yet…hoping it does not slow down my phone like their desktop products do. I have heard that McAfee has just released something similar. When I get a chance I will test them both and report back here
One more thing…Subscribe to my newsletter and get 11 free network administrator tools, plus a 30 page user guide so you can get the most out of them. Click Here to get your free tools