I have almost 4 years worth of emails in a Gmail account. I have tried using other services, and even ran my own email server – but I always find Google calling me back with their top notch spam protection.
The problem with that is…well I have 4 years worth of emails. Many of them contain serial numbers to products, important answers to customer questions, and stuff that is simply not replaceable. I never trust computers when it comes to keeping my data secure. I always assume that today it is here, and tomorrow it could be gone.
Backups are easy when it is your own system, but when you have all of your email on a service like Gmail it makes it more difficult to make it part of a backup procedure. I started to get worried about losing it all, so for a few weeks now I have been trying to use MS Outlook to download it to a local PST using IMAP. The account has over 30,000 messages, and Outlook always dies at about the 12,000 message mark.
After some digging (About 3 seconds on Google) I found a free utility that will backup your entire Gmail account to a folder.
Let me start out by telling you the best things about it:
1. It is free – I would pay for a pro version if it would automate the process for me
2. It can restore a backed up account to a current email account
3. The backup is stored in standard eml format – This means you can open messages using Outlook express.
You can download the latest version from http://www.gmail-backup.com
Backing up is a simple process. You download the program, enter your account info, and press the backup button. (The hosted version of Gmail is supported too)
A single form is displayed when you launch the application: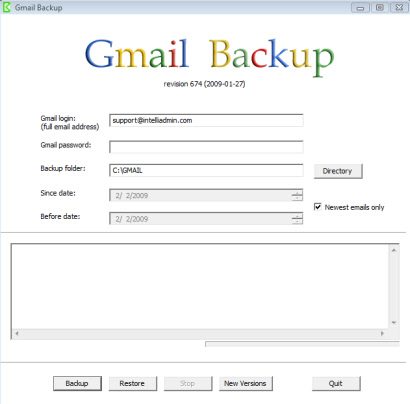 Enter your login information, and a destination for the backup files. Click on the backup button.
Once it is finished, it organizes the backups by date in the destination folder you selected: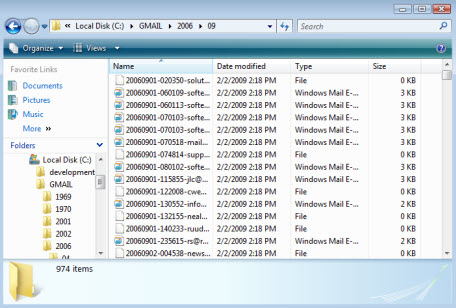 You may notice the 1969, and 1970 folders – those are from a few improperly formatted email messages that have an invalid date stamp…it is not a bug.
You can view any of them using Outlook Express by double clicking on a message: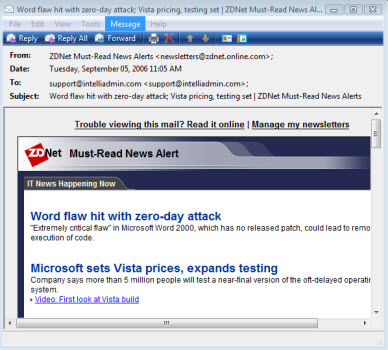 This is a fantastic utility and I highly recommend it.
One more thing…Subscribe to my newsletter and get 11 free network administrator tools, plus a 30 page user guide so you can get the most out of them. Click Here to get your free tools