Last Tuesday Microsoft confirmed that the next version of Office (code named Office 14), will come in both 32 and 64 bit versions.
Office 14, is expected to be called Office 2010, but no name has been announced yet. The most fascinating part about this new release is that Microsoft will be including browser based versions of their products. This includes Word, Excel, PowerPoint and OneNote – these are in addition to the desktop based applications.
Here is a screen shot from one of the browser based versions: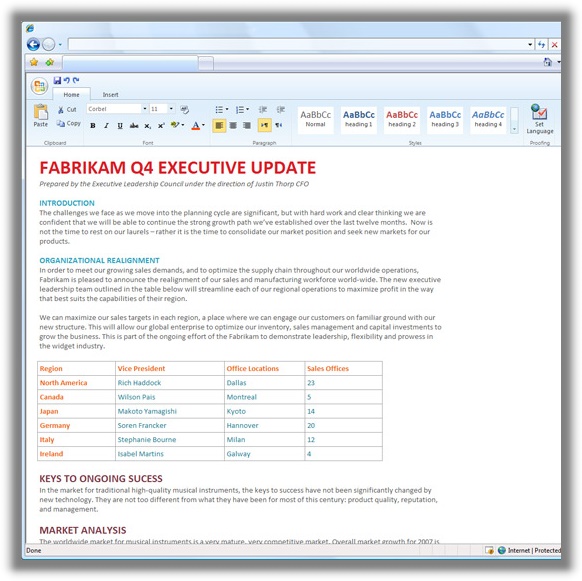 The most shocking part is these browser based versions will support FireFox, and Safari – thus bringing the office suite of applications to Linux…and the iPhone at the same time.
Back to the 64 bit version – why? Well the most notable is performance. The 64 bit versions will allow the applications to break the 4 GB barrier. I can see this could be important for some high end Excel applications. In addition, Microsoft has a long term plan of phasing out 32 bit windows. This is the first step in that direction.
Microsoft has started testing of Office 14, and its web based parts – but public beta testing availability is not expected until later this year. Exchange 14 is also being tested by about 14 million people – many may not even know it, since this is being done through Microsoft's Outlook Live service.
One more thing…Subscribe to my newsletter and get 11 free network administrator tools, plus a 30 page user guide so you can get the most out of them. Click Here to get your free tools