Since Microsoft broke Windows Search in Windows XP SP2, I have been looking for a simple alternative. I just want something that can search everything. I hate the fact that Microsoft insists on skipping over files that it thinks are not important, or might be too scary for me to look at.
These days I end up using the search built into Visual Studio while I am writing code for our products. This is mostly because I still have not found a search utility that fits these requirements:
-Does not require an install. Just a simple exe I can drop on a USB drive, or network share
-Is simple enough to handle an easy text search, and complicated enough for me to search by date
-Does not take up a huge amount of CPU time.
By accident I found one that fits all three. It is called SearchMyFiles.
You can get it as a free download from here:
http://www.nirsoft.net/utils/search_my_files.html
It is a simple download. Just one exe file. You can put it on a flash drive, or network share. Double click and you get a ton of options to find the file you are looking for: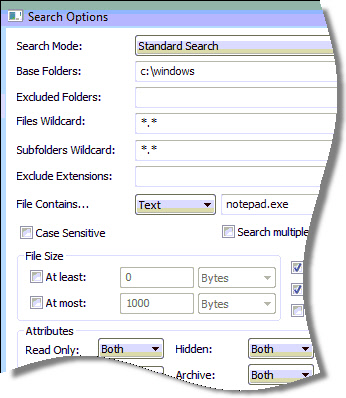 Click on "Start Search" and it starts zooming through your hard drive for the files.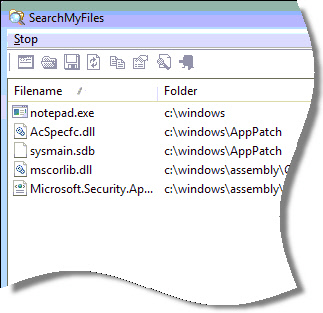 Even better, it can handle multiple search queries at the same time.
This is an awesome little utility. I highly recommend it.
One more thing…Subscribe to my newsletter and get 11 free network administrator tools, plus a 30 page user guide so you can get the most out of them. Click Here to get your free tools