Sometimes the simplest tips are the best.
Normally I would not even write about this but it is such a great time saver, it is worth repeating even if only a few of you don't know about it.
I know you have seen this before: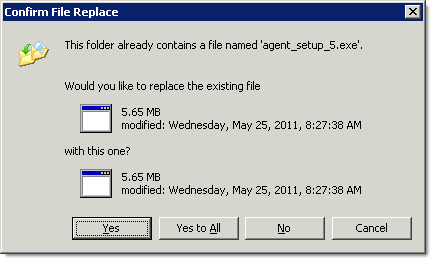 What is the problem here? Well, what if you want the "No to all" option?
Got to keep pressing N right?
Wrong!
Next time you see this dialog. Hold down the shift key, and then click no. That tells windows "No to all"!
All of your files will copy over, except the ones that already exist.
The sad part is I found this by accidentally holding down the shift key last week while pressing no 🙂
One more thing…Subscribe to my newsletter and get 11 free network administrator tools, plus a 30 page user guide so you can get the most out of them. Click Here to get your free tools