Attention: This utility has been updated. The command line arguments here are out of date.
Click Here
for info on the new release
This week we have a question from Melissa:
"Hi Steve. Got a really quick question. Previously you had an article that showed how to burn an ISO from the command line. My question is, what about a folder? I want to simply burn a folders contents to a DVD once a week. Any simple way to do this?"

Good question Melissa. I too have been looking for something like this.
Most of the DVD/CD burning software is not free.
That is not a big problem…but I would think that the simple process of copying a folder to a DVD or CD shouldn't cost me $49!
So what to do? Have the IntelliAdmin team make one for you!
This first version we wanted to be as simple as possible, so it only does one thing: Burn a folder to a disk.
-You specify a drive, and a folder.
-It burns it and closes the session on the drive
-If it fails, the program will return 1
-If it succeeds the program will return 0
This means you can create conditional statements in a batch file too.
How do you use it?
Once you grab it from our downloads page you can call it like this from the command line:
BurnDisk.exe E: C:\Backup
Where 'E:' is the DVD/CD drive letter, and C:\Backup is the folder you want to back up.
It will automatically set the volume name to the current date. It will then zip through your specified folder and burn the contents to the CD or DVD: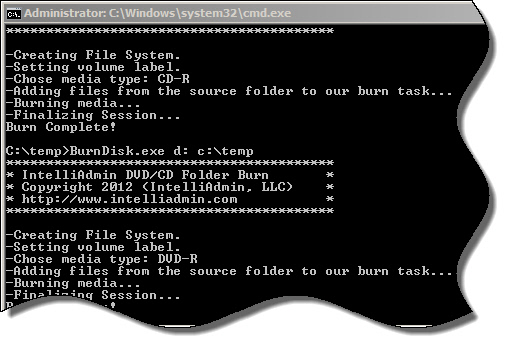 You can use the ERRORLEVEL value for conditional statements in your batch file (Like send you an email if it fails)
Here is an example bat file that checks the result of the BurnDisk.exe output:

@ECHO OFF
REM Backup our files to DVD or CD ROM
burndisk.exe e:\ c:\Backup
REM Check our result
IF %ERRORLEVEL%==0 goto COMPLETE
REM ERROR HANDLING HERE
:COMPLETE

This is version 1.0 so it is quite simple – but for many situations I think it will work perfect.
Let us know what "Must Have" features you want to see in 1.1
It has been tested on Windows Vista, 2008, and 7. It should work on 2003 and XP (With the latest patches) but we have not had a chance to try it on those platforms yet.
Get it from our downloads page
One more thing…Subscribe to my newsletter and get 11 free network administrator tools, plus a 30 page user guide so you can get the most out of them. Click Here to get your free tools