In July of 2012, Andrew asked us a question:
"Hi Steve. I have been looking for a really simple utility. I am always on the phone with users, and sometimes it takes forever to walk them through and have them find their IP address or host name. I remember your post about BGInfo, but that program puts text all over the desktop. My users would kill me if I had them all run that over their family / cat / dog pictures. Is there anything that can do this without bothering them?"
That prompted us to come out with a free utility called SystemInfo.exe
If you have been following the blog you know we continually improve this little app.
Well this week, we have version 5 ready for you 🙂
What is it? It is a simple program that collects vital system information all on one easy to read page.
It can really save time when supporting users over the phone. Instead of telling them to click on start, then control panel, then, etc etc…you can simply say "Click on the star down by the time" – and bam – they can easily see this info and read it off to you:
In this version we have added the current domain name: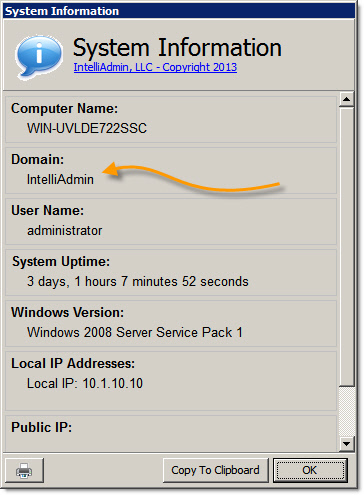 Also, another request was the ability to print the system info: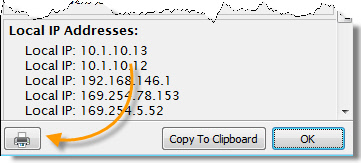 The printout is big and easy to read: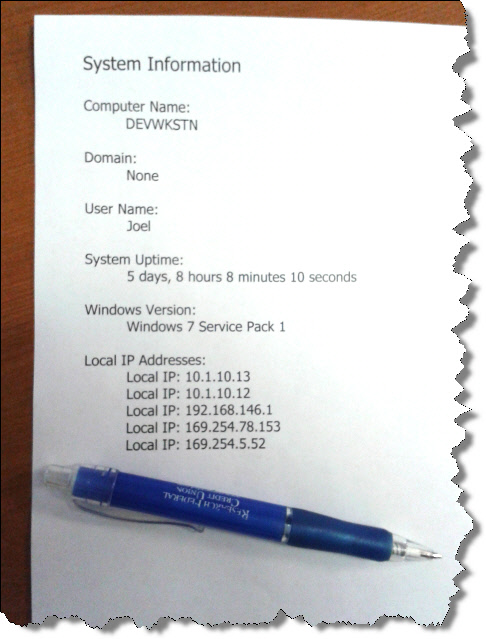 The launch behavior was also changed. Before it would automatically hide itself, and then show up as a 'star' icon down by the time.
Now it shows the form, and will close when the user presses OK. This works well if you have a public set of shortcuts.
The star icon is a nice way too, since you can just tell the user "Click the star down by the time"
If you want the old functionality simply call it with the /tray command line argument.
Here are all of the command line arguments:
/no_public_ip – Disables the public IP option. Important if you don't want the program to hit our servers when it is run
/no_url – Removes the IntelliAdmin link at the top of the main form.
/no_exit_menu – Removes the exit menu.
/tray – Run the program in tray mode. Program hides on launch, and can be opened by clicking on a star down by the time.
You can get the new version from here:
It is free for commercial or personal use.
One more thing…Subscribe to my newsletter and get 11 free network administrator tools, plus a 30 page user guide so you can get the most out of them. Click Here to get your free tools