If you have not tried Windows 2012 server yet – you should give it a spin.
Yes, it is missing the start menu – but the performance blows 2008 server out of the water. I don't have any specifics to back it up, but just the boot time and general overall system responsiveness will really impress.
One of the sad things about 2012 is they have removed RDP Shadowing.
RDP shadowing is used to 'jump' into a terminal service / RDP session that is active…and be able to move the mouse, type on the keyboard and share that RDP session with its user.
This is what the interface looks like in 2008: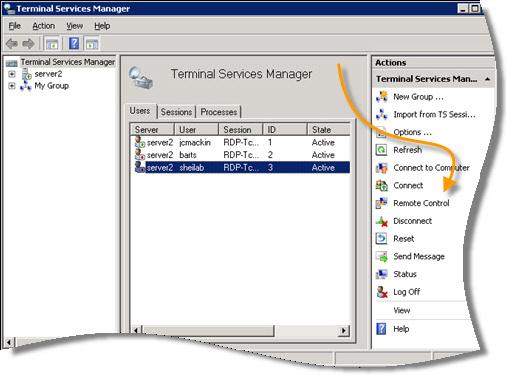 The lack of shadowing is quite painful when most of your users login to a terminal server to do their work.
Luckily we have the answer – IntelliAdmin Remote Control.
Our remote control software can easily shadow an RDP session – Even on older systems that run XP, or 2003.
Just install the agent on the computer you want to control, and then connect to it with our viewer.
Once you are connected, you can just pick the user you want to shadow from the top of the viewer: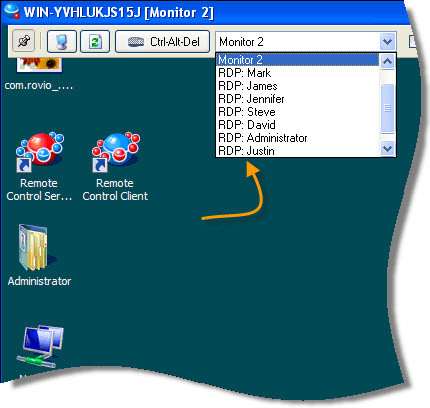 Within a few seconds the system will allow you to "jump" into their session.
You can simply observe, or if needed you can move their mouse around and type on the keyboard – just as if you were the one with Remote Desktop open.
You can get a 15 day trial of Remote Control from our product page:
Download IntelliAdmin Remote Control
One more thing…Subscribe to my newsletter and get 11 free network administrator tools, plus a 30 page user guide so you can get the most out of them. Click Here to get your free tools