Last week I wrote about some changes we had to make to USB Disabler Pro. We have finalized testing and this week we have a release version ready.
This program allows you to keep users from accessing removable storage on their computer.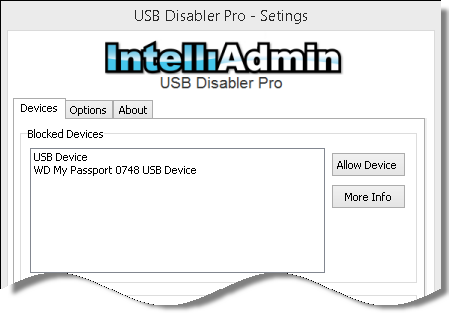 You can allow specific devices, or even setup a group or username that has full access.
Download a trial version from here:
For a limited time we are offering a site license for only $199 US.
Many of you asked about how this compares to the USB Disabler free edition, and its counterpart in Network Administrator.
That free tool uses a simple registry key change to block any device that uses the USBStor driver. That worked great for a number of years. All the way back to XP in fact.
The problem now is that Microsoft has made some changes in what makes up a removable device.
Users can now connect cameras / phones, and copy files to them. All of this without ever touching the USBStor driver subsystem.
In response to that issue, we have made a free edition of USB Disabler Pro. It works much like the registry key before, except that it can block any type of removable device that can copy files.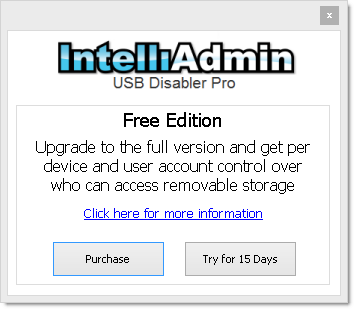 You can get your copy of it here:
USB Disabler Pro Free Edition Download
This new free edition runs as a service, keeps an eye out for new devices and disables them as they are attached.
If you are a current customer, and have not received an upgrade email – send us an email at support@intelliadmin.com and we will take care of you as soon as possible
One more thing…Subscribe to my newsletter and get 11 free network administrator tools, plus a 30 page user guide so you can get the most out of them. Click Here to get your free tools