A few months ago we released a new version of Network Administrator that had the ability to clean temp files out of user profiles, and the system temp folder: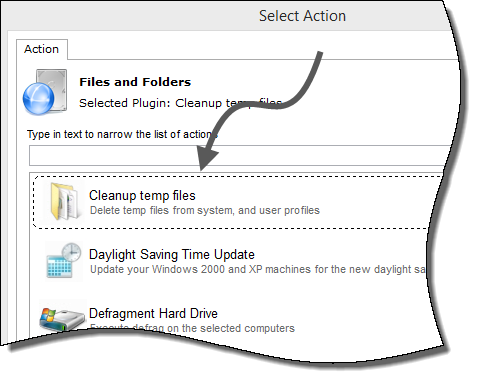 A good friend named Rob emailed me about an issue he was having – it seems that the plugin did not always clean out all of the files and folders in temp
After some digging, it seems we had a misplaced "On Error Resume Next" in the VB Script.
We fixed that, and then improved the output to include a total: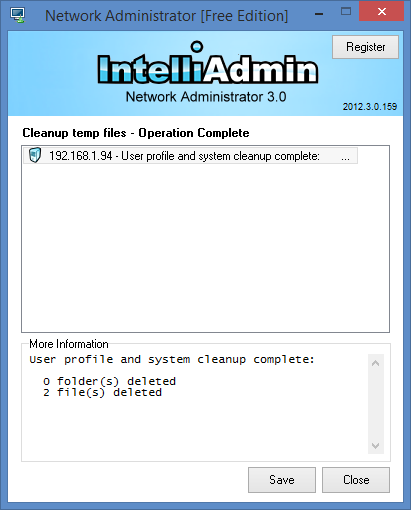 Get the latest version of Network Administrator from here:
Network Administrator Download
If you already have it installed, just install this version right over it to update.
One thing to take note of – for the remote capability to work you are going to need to open the admin share on remote machines.
These articles will help you out with that:
Windows XP:
http://www.intelliadmin.com/index.php/2008/12/enabling-file-and-printer-sharing-in-windows-xp/
Windows Vista, 2008:
http://www.intelliadmin.com/index.php/2008/12/enabling-file-and-printer-sharing-in-vista/
Windows 7, 2008 R2:
http://www.intelliadmin.com/index.php/2009/08/windows-7-the-admin-share/
Windows 8, 2012:

http://www.intelliadmin.com/index.php/2012/10/windows-8-enable-the-admin-share/
From a script on any version of windows (Must run as administrator):
Enable the admin share from a script
With Vista, Windows 7, and Windows 8 – Make sure you make the registry change noted in those articles, or you will get an access denied
One more thing…Subscribe to my newsletter and get 11 free network administrator tools, plus a 30 page user guide so you can get the most out of them. Click Here to get your free tools