I recently got a new laptop. I wanted to run Windows 8.1 on it, but I was not about to give up valuable space for it.
I started looking into booting from an external drive.
At first I thought it might be so slow that it would be useless to use – but amazingly with USB 3.0 the speed gets close to internal SATA.
To get this to work, you need to manually prepare your external drive – that means some command line work is ahead of us.
Get to a Windows 7, or 8 machine, plugin in your drive, and run a elevated command prompt.
At the prompt type:
diskpart
This will start up the disk utility in windows.
The first thing we want to do is identify our external drive.
We can do this by typing "list disk":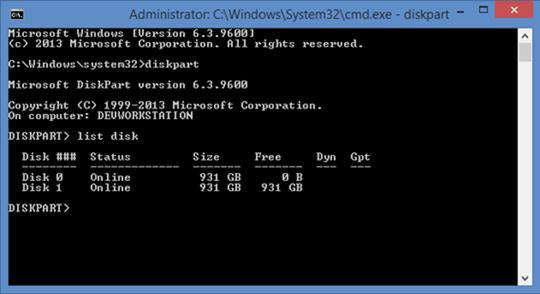 In the above, my drive is disk 1. It is empty. If you already have partitions created you will need to remote them all. I won't go into that here.
It is really important that you look carefully and identify the proper drive and its number.
IF IT IS NOT CORRECT, YOU COULD LOSE DATA BY PICKING THE WRONG DRIVE
What we are doing here is creating two partitions on the drive. One is for booting, the other is for our Windows install.
First, we want to select our disk by typing:
"select disk X"
Where X is the external disk for your install.
Now that the drive is selected run the clean command:
clean
Next, we create a small boot partition:
create partition primary size=350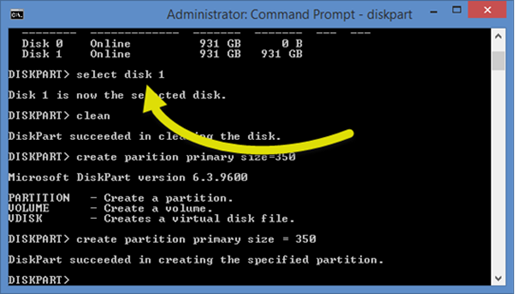 Then we create our windows partition with the rest of the space with this command:
create partition primary
The beauty of using this two partition method is we get a true NTFS partition for our install drive, and it will act like an internal disk.
Now that we have both partitions we will format the small boot partition with FAT32, and the main partition NTFS.
Lets start with the boot partition by using these commands:
select partition 1
format fs=fat32 quick
active
assign letter=b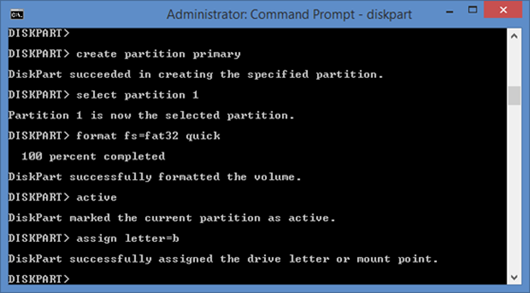 This will format the small partition fat32, and assign it the drive letter b
I assigned it to b drive since that is almost never used. This will be just temporary during our config here.
Next to format the primary Windows partition:
select partition 2
format fs=ntfs quick
assign letter=y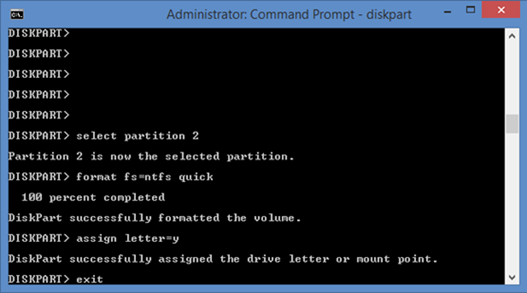 This will format it NTFS, and give it the letter Y for the drive. You may need to pick a different one if that is in use on your system. Again, only needed during our setup here.
Once that completes, you are done partitioning the drive.
Type exit to get out of diskpart.
Next, you will need the Windows 8 install disk. Create a folder on your local hard drive…it will be used to move some install files around. I used c:\wim\
Then go to your Windows 8 DVD, and the sources folder. Copy the file named install.wim to c:\wim
Now, we need to download a deployment tool from Microsoft. It is called the Windows Assessment and Deployment Kit for Windows 8. You can get it from here
http://www.microsoft.com/en-us/download/details.aspx?id=30652
Install it on your system: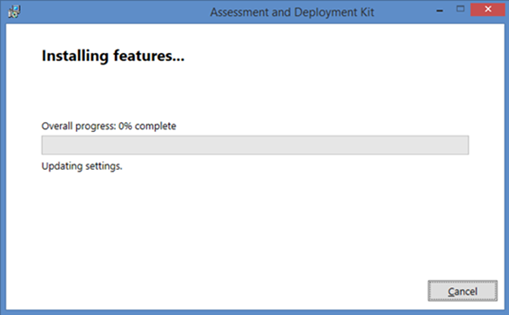 Once it is complete get to an elevated command prompt and go to this folder:
C:\Program Files (x86)\Windows Kits\8.0\Assessment and Deployment Kit\Deployment Tools\amd64\DISM>
This folder has the imagex utility. It will allow us to build our install on to the drive.
From this folder, run this command:
imagex.exe /apply c:\wim\install.wim 1 y:
Notice the y: in that line. Make sure it matches the drive letter you picked earlier.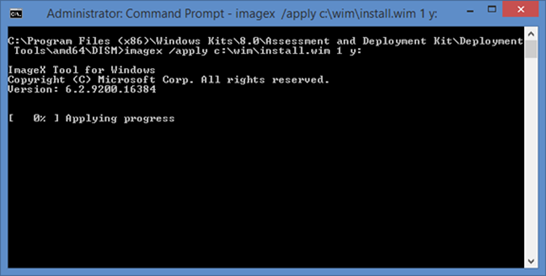 This command will build the install files on to your drive. It will take some time…
When it completes, we have one last step.
Go into your newly created install disk (In my case that is on the y drive) and build the boot sector by using this command:
y:\windows\system32\bcdboot y:\windows /f ALL /s b: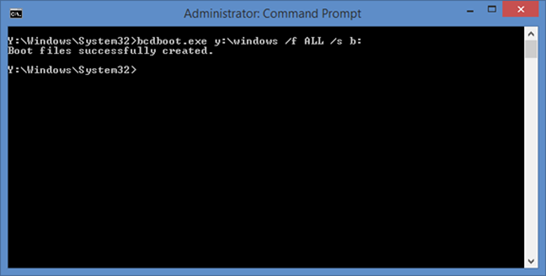 Notice the y drive, and b drive. Make sure they match your choices for drive letters you made earlier.
Once this complete, you are ready to boot from your external drive and run the Windows 8 install. Make sure you have your BIOS setup to boot from external USB devices and you should be good to go.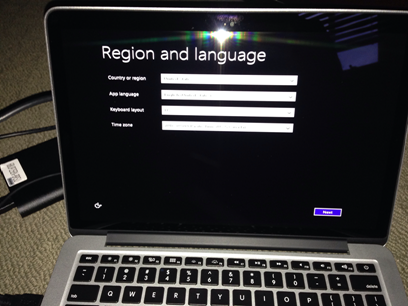 After my setup completed, my Windows 8.1 install boots in about 30 seconds from an external drive. Not too bad for an external USB.
One more thing…Subscribe to my newsletter and get 11 free network administrator tools, plus a 30 page user guide so you can get the most out of them. Click Here to get your free tools