Some time ago we released a free utility to burn files to DVD/CD from the command line.
It has been quite popular, but one issue has been found.
The utility did not close the burn session – which is fine in most situations. If you burned to a disk a second time and it had the space it would just burn the data to a new session and the old session would be hidden.
Unfortunately on some drives the new session is the one that is hidden. This means you could burn to the disk, get no errors, and have no way of accessing that data.
Our fix is to force it to finalize the session for each burn. This guarantees you will get a failure if it tries to write to a disk that is already being used.
Lets go through how the utility works.
It is a program you execute from the command line, and can be used in batch files: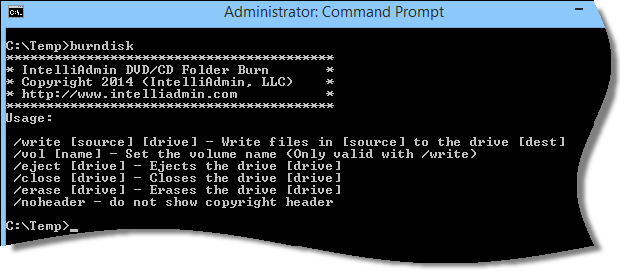 Here are the command line options
-You can eject the drive
-You can erase disks
-You can set the label when writing to the disk
-You can close the tray
Lets see some examples.
If I wanted to backup c:\temp to my writable DVD on E: it would look like this:
burndisk.exe /write c:\temp e:
If you wanted a custom volume label (It defaults to the current date), you could use this:
burndisk.exe /write c:\temp e: /vol VOL_LABEL_1
To eject the drive, you can call it like this:
burndisk.exe /eject e:
To close that drive tray:
burndisk.exe /close e:
To erase a drive:
burndisk.exe /erase e:
You can use the ERRORLEVEL value for conditional statements in your batch file (Like send you an email if it fails)
Here is an example bat file that checks the result of the BurnDisk.exe output:
@ECHO OFF
REM Backup our files to DVD or CD ROM
burndisk.exe /write c:\Backup e:
REM Check our result
IF %ERRORLEVEL%==0 goto COMPLETE
REM ERROR HANDLING HERE
:COMPLETE
Get the latest copy from our website here:
One more thing…Subscribe to my newsletter and get 11 free network administrator tools, plus a 30 page user guide so you can get the most out of them. Click Here to get your free tools