I have been getting lots of reports of users who manually installed this new update of Windows 10 – named the 'Anniversary update'
The reports are from not being able to even reboot, lost wifi connectivity, to all settings getting set back to their defaults. I did some google searching and am seeing the same reports.
Thankfully I am pretty sure it won't automatically go out until next Tuesday. I could be wrong about this, but it should give you some time to turn the update off.
Go into the new settings application for Windows 10 (Not the old control panel)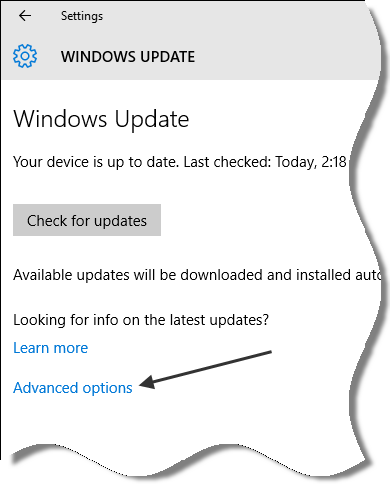 Then click advanced options.
Here is what that looks like: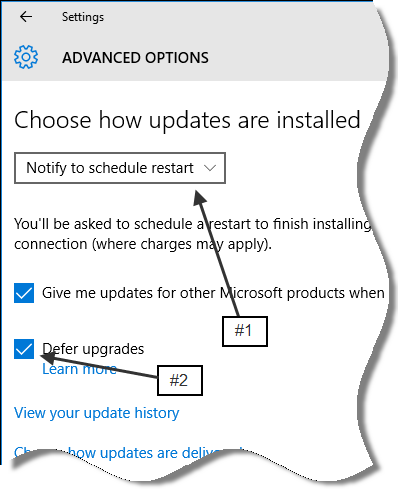 There are two issues you can take care of here. Tired of Windows 10 deciding to reboot at any moments notice? Well change #1 for it to ask first
The second one addresses this 'Anniversary Update' Pick the option and it will delay the update for 4 months. So it is not permanent but it will give you time for them to fix these issues before it is forced on you.
If I find a way to make it permanent I will send you an update.
Next weeks article will tell you what we have been up to. I know our website looks like it is dormant and abandoned at times from the lack of updates. But the truth is we have been working our tails off on some exciting updates to the free tools, and paid products. Will tell you all about it next week.
While writing this article…just saw this on InfoWorld:
The case against the Windows 10 anniversary update
Till then, take care of your Win 10 machines as soon as you can.
One more thing…Subscribe to my newsletter and get 11 free network administrator tools, plus a 30 page user guide so you can get the most out of them. Click Here to get your free tools