Over a year ago we came out with a utility to burn files from the command line.
It was a little short on features, so this week we took some time and beefed it up.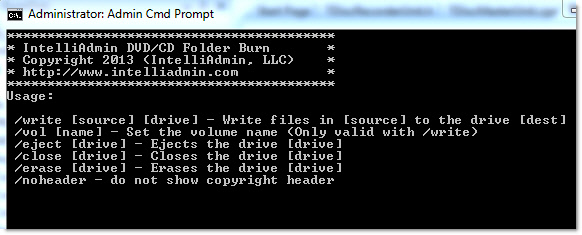 Here are the new options:
-You can eject the drive
-You can erase disks
-You can set the label when writing to the disk
-You can close the tray
That last one was tough. Someone emailed me a while back asking if it was possible to programatically close the drive. After lots of searching we came up empty handed. During our update we found an obscure way to make it happen.
Lets see some examples.
If I wanted to backup c:\temp to my writable DVD on E: it would look like this:
burndisk.exe /write c:\temp e:
If you wanted a custom volume label (It defaults to the current date), you could use this:
burndisk.exe /write c:\temp e: /vol VOL_LABEL_1
To eject the drive, you can call it like this:
burndisk.exe /eject e:
To close that drive tray:
burndisk.exe /close e:
To erase a drive:
burndisk.exe /erase e:
You can use the ERRORLEVEL value for conditional statements in your batch file (Like send you an email if it fails)
Here is an example bat file that checks the result of the BurnDisk.exe output:
@ECHO OFF
REM Backup our files to DVD or CD ROM
burndisk.exe /write c:\Backup e:
REM Check our result
IF %ERRORLEVEL%==0 goto COMPLETE
REM ERROR HANDLING HERE
:COMPLETE
Get the latest copy from our website here:
One more thing…Subscribe to my newsletter and get 11 free network administrator tools, plus a 30 page user guide so you can get the most out of them. Click Here to get your free tools