Almost two years ago we came out with a Network Administrator plugin that could force MS automatic updates – remotely.
After that release, one of the things we found is people needed it because of a botched WSUS (Windows Server Update Services) setup.
When I say botched, it is pointing to the wrong IP address for updates.
We updated the plugin to force it to download from Microsoft's servers.
That created a new problem – people wanted to force updates on a machine with a working WSUS server. They don't want it to download from Microsoft.
Today we are releasing an update that allows you to change this in the settings: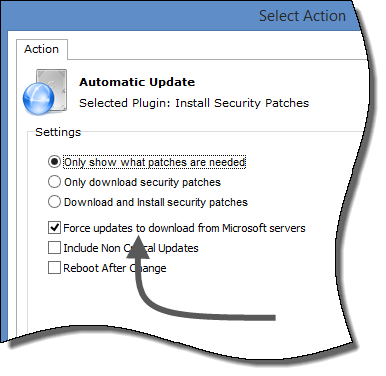 If you tell it to download from Microsoft, it will ignore group policy settings and download from Microsoft. Otherwise it will follow the policy put in place by your WSUS server.
You can get the latest copy of Network Administrator from here:
Network Administrator Download
If it is already installed, just close it and install right over. This will update the plugin for you automatically.
A few things to keep in mind when using Network Administrator:
-File and printer sharing must be allowed through the firewall
-Remote registry also needs to be started and set to automatic
These are both needed for Network Administrator to do its work.
These articles will walk you through opening it up on various versions of Windows:
Windows XP:
http://www.intelliadmin.com/index.php/2008/12/enabling-file-and-printer-sharing-in-windows-xp/
Windows Vista, 2008:
http://www.intelliadmin.com/index.php/2008/12/enabling-file-and-printer-sharing-in-vista/
Windows 7, 2008 R2:
http://www.intelliadmin.com/index.php/2009/08/windows-7-the-admin-share/
Windows 8, 2012:

http://www.intelliadmin.com/index.php/2012/10/windows-8-enable-the-admin-share/
From a script on any version of windows (Must run as administrator):
Enable the admin share from a script
One more thing…Subscribe to my newsletter and get 11 free network administrator tools, plus a 30 page user guide so you can get the most out of them. Click Here to get your free tools