Last year we released a tool called 'SystemInfo' that would allow users to easily see their local IP address, and other system information.
It can really save time when supporting users over the phone. Instead of telling them to click on start, then control panel, and trying to guess which version of windows – you can tell them: "Click on the star down by the time":

When they click it, all of the current info is displayed: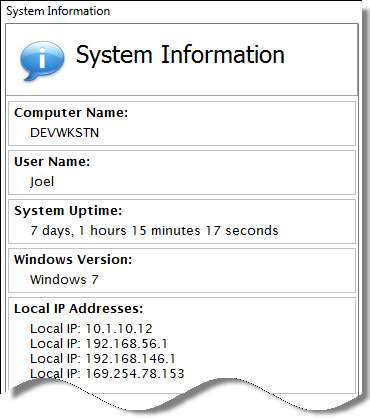 David asked us this week if we could add the computer uptime:
"… I am sure you get bombarded with feature requests… but a great one would be 'uptime'. Nothing brings joy to me as much as asking a user did you reboot? And then finding out their computer has been on for 28 days and calling them on it, the replies are priceless!"

What a great idea. We went to implement it, and found that there was no room left on the form. So while we were in there we cleaned it up, and freshened up the interface.
The new version will tell you when it is looking up your public ip: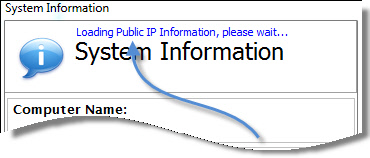 As you can see in the first screen shot, we added David's request…the system uptime: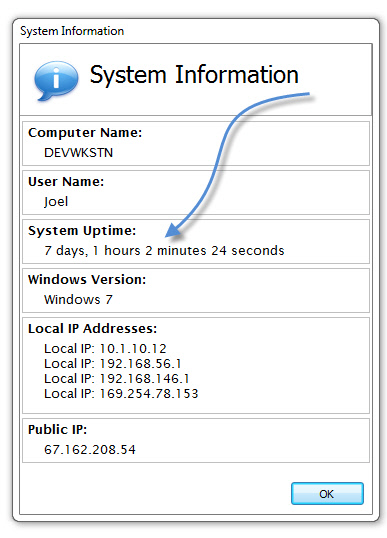 These command line options you can use to change the view:
/no_public_ip – Disables the public IP option. Important if you don't want the program to hit our servers when it is run
/no_url – Removes the IntelliAdmin link at the top of the main form.
/no_exit_menu – Removes the exit menu.
You can get the new version from here:
It is free for commercial or personal use.
One more thing…Subscribe to my newsletter and get 11 free network administrator tools, plus a 30 page user guide so you can get the most out of them. Click Here to get your free tools