Over the Thanksgiving holiday I found myself in a situation where I wanted to test some software (Dad wanted to install some free stuff, but I thought it might have spyware)…but I didn't want to clutter the computer with the junk that might come with it.
I thought about downloading a copy of VMWare. It would be the perfect way to test things out, and then when I was done I could just delete the virtual machine.

I have a license for VMWare Workstation, but since I was out of the office I didn't have any of my license info. Thinking back now I could have used their 30 day trial…but I would have never had a chance to try VirtualBox.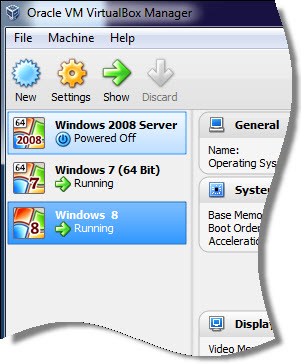 VirtualBox is a free alternative to VMWare, and Microsoft's Hyper-V.
It has been years since I looked at it – I am blown away by its functionality, and how smoothly it runs.
The first thing that surprised me is that while installing Windows 7 on my VirtualBox, I didn't have to install any special mouse or video drivers. Yes, they do have their own guest drivers – but out of the box the mouse was working smoothly.
After Thanksgiving, I decided to look at VirtualBox more carefully to see what it could do.
The next test for me was Windows 8. Many of the slightly older VM solutions cannot handle the changes in Windows 8. I was able to install it without a hitch.
It has all of the features you would expect:
-Mount an ISO as a DVD/CD
-Shared clipboard
-Bridged network, or NAT
-EFI Support
-Audio Redirection
This tiny list does not even scratch the surface of what is possible. You can view the user guide here.
My favorite feature is the remote display system. VirtualBox has its own RDP server. This means you can use the remote desktop client to connect remotely.
Just go to the display settings of your virtual machine. Enable the remote display, and pick a high port that is different than 3389 (So it does not conflict with your own RDP port). In my case I used 33388: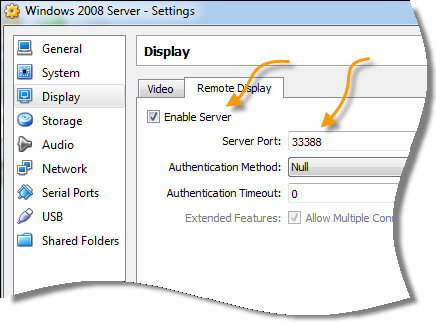 Then, when you want to connect…just specify the port like this: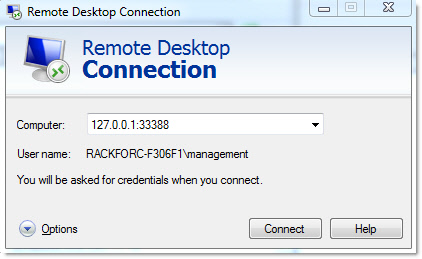 The IP address is the IP of the computer running VirtualBox – not your guest. This is great in situations where you have different network settings on the guest, or don't even have RDP (Windows XP Home, or Windows 2000).
Just hit connect, and you are on the machine in seconds.
You can download VirtualBox from here:
https://www.virtualbox.org/wiki/Downloads
The license allows you to use the free version in a commercial setting. The only exception is if you are going to use it as a service provider, or you are going to deploy it across your network – then they ask that you purchase a license.
Another thing to note – I have not had a chance yet to measure performance against VMWare and Hyper-V. So I am not sure how it matches up.
Still, from what I see so far – it is worth taking a look.
One more thing…Subscribe to my newsletter and get 11 free network administrator tools, plus a 30 page user guide so you can get the most out of them. Click Here to get your free tools