Setting up a logon script in active directory is not always that simple. Lets walk through it.
First, open "Active Directory Users and Computers" on the domain controller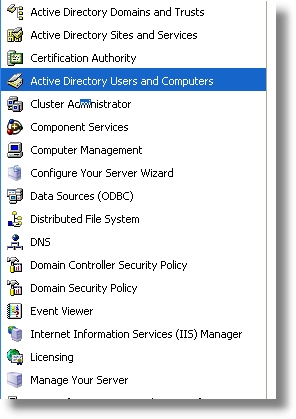 Now right click on the user you want to have the logon script and select the properties menu.
A properties dialog like the one shown below will appear. Select the 'Profile' Tab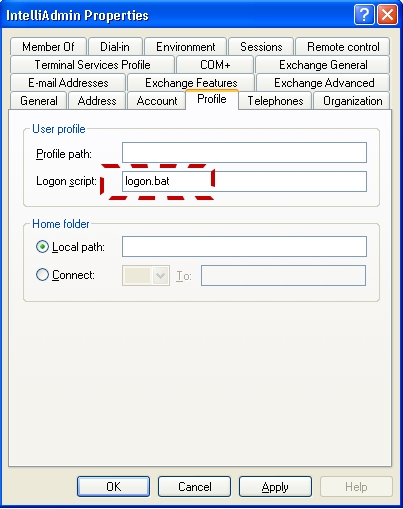 Here is the confusing part. If I just put any old batch file name in the logon script field, where does windows try to find it from?
Lets find out. First, type in this field 'logon.bat'
Click OK.
Now, we need to find the folder where the server loads logon scripts. It follows this format:
\\(SERVERNAME)\sysvol\(DOMAIN NAME)\scripts
So, if my server was named DCServer1, and my domain was intelliadmin.com, we would browse to this path:
\\DCServer1\sysvol\intelliadmin.com\scripts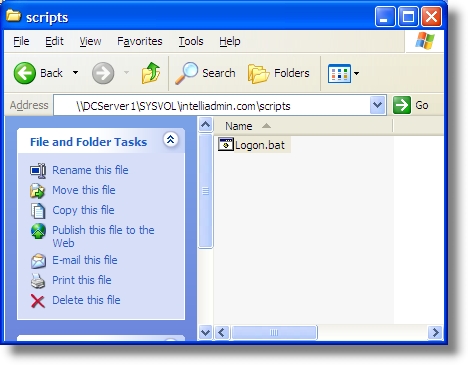 Now that we know where to put it, creating the script is easy. Just open up notepad, and write your batch file. For our test batch file we will put in a line that loads our profile generator for Microsoft Outlook XP

We are done with the script, so we save the text file as:
\\DCServer1\sysvol\intelliadmin.com\scripts\logon.bat
Now, the next time this user logs in, they will load the login script.
One more thing…Subscribe to my newsletter and get 11 free network administrator tools, plus a 30 page user guide so you can get the most out of them. Click Here to get your free tools