Windows Media Player 11 was released today.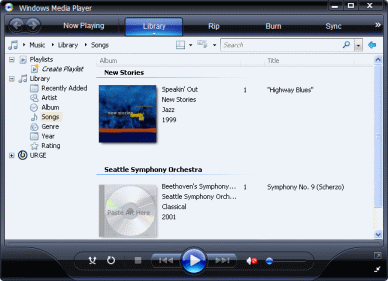 Like all new Microsoft software you need to have a valid version of windows to install it. Additionally, it is only available for Windows XP.
This is the first edition of Media player to provide integration with the MTV Urge music service. Key features boasted by Microsoft include:
-A visually driven experience using thumbnail and album art, an elegant and simple design, and customization capabilities for more personalized interaction
-Improved device experience with new shuffle sync and reverse sync options, device exploration using the library view, and intuitive help icons that ensure seamless and intuitive syncing and burning of rights-managed content
-Highly simplified navigation capabilities, enhanced shortcut options, and dedicated category views for all media types, including music, photos and video
-Better access to content with deep integration of services that blurs the line between online service and media player experiences
-Industry-first audio fingerprinting capabilities that recognize and import track information for unidentified or misnamed audio files
-New formats for ripping and music playback, including Windows Media Audio Professional and WAV Lossless
Why is this release important to Windows Administrators? Well I know that many of you have integrated phone systems. What I mean by that is your users can listen to their voice mail in wav, or mp3 format on their computer. I am not sure if Microsoft will force this version of Media Player via automatic updates, but it really provides no additional benefits to those using media player to listen to short audio clips.
In reality this update simply is a better marketing engine for Microsoft's media division. Frankly, as a business, There is no need for users to have their own music 'store' on their computers. It seems to be getting harder and harder to find a media player that just does that – play media. No popups, No music store sales, No spyware. Just play my MP3. Thats all I need.
Does anyone out there know of a media player that just plays MP3s, and Wav files without in-your-face advertising for the media companies? E-Mail Me and let me know.
One more thing…Subscribe to my newsletter and get 11 free network administrator tools, plus a 30 page user guide so you can get the most out of them. Click Here to get your free tools