When service pack 2 came out for Windows XP, I was surprised with the following message when trying to launch applications from the desktop: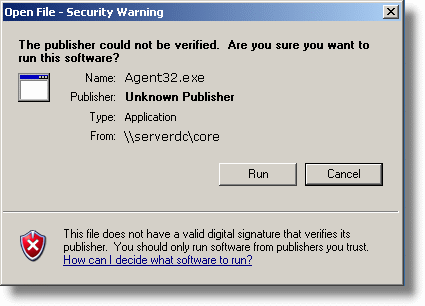 It is the result of Microsoft trying to protect users from malicious programs. The message will appear for any shortcut or executable that is hosted on a network share.
The maddening part is when you try to find the answer to this problem. After lots of digging I discovered it is actually an Internet Explorer setting! Yep. Double click shortcuts on the desktop – bam IE settings take effect.
There are two ways to solve this problem. First you could disable the feature totally. If you open the local policy editor by running gpedit.msc at the run window. Dig down to: User Configuration\Administrative Templates\Windows Components\Attachment Manager\Inclusion List For Low File Types
Enable it, and add .exe to the list
There is a big security issue with this. Internet Explorer uses these same settings. By changing it you are keeping IE from warning users about running EXE files. It is unfortunate that Microsoft decided to integrate the setting in this way.
The next way I will show you is the preferred way.
First, determine what server the shortcut is hosted on. For our example we will allow only shortcuts that are pointing to server1 to be launched without the warning.
Open Internet Explorer.
Click on tools, then Internet Options. Click on the security tab.
Once you are on this tab. Make sure you first click "Local Intranet", and then the "Sites" button should light up. Click it.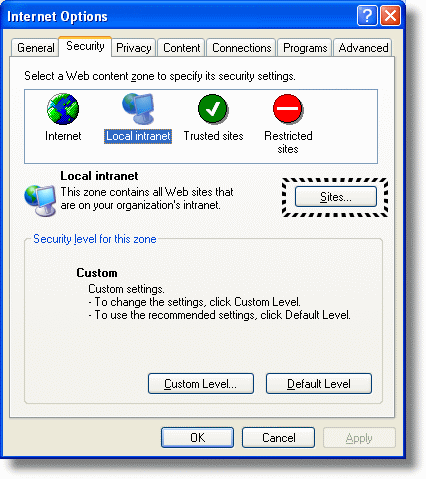 On the form that is displayed, click advanced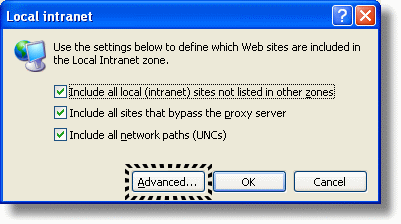 You will be shown a list of sites that are in the "Local Intranet"
To add your server to the list. Type file://server where 'server' is the name of your server. We will put server1 here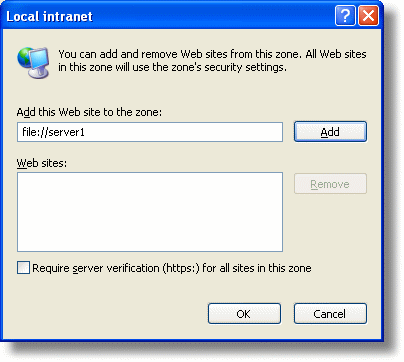 Click on Add.
Click OK, on the rest of the dialogs to get out of the settings for Internet Explorer.
Now we can create shortcuts that point to that server, and no "Publisher cannot be verified" dialogs will be shown.
One more thing…Subscribe to my newsletter and get 11 free network administrator tools, plus a 30 page user guide so you can get the most out of them. Click Here to get your free tools