Yep. You read it right. NEC is working on a waterproof laptop that can withstand 20 degree weather, water, and drops from a foot off the ground.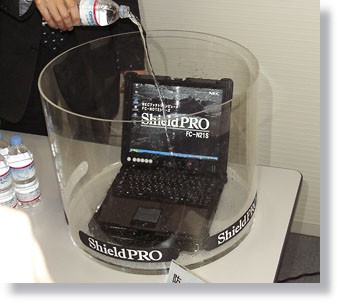 Our terrible translation from the NEC (Japanese) website

NEC on the 5th, is strong in impact, prevents the penetration of the water, withstands also the cold of 20 degree "tough" notebook PC "FC-N21S (the alias sealed professional)" it sold.  As for the new product, using the magnesium die-cast alloy for the substance. Dropping from height 90 centimeter, besides the fact that it has the toughness which is not broken, it has the dustproof drip-proof efficiency which prevents the penetration of the dust and the water. In addition, although it tries to be able to use even with environment of 20 degree with the efficiency improvement and the like of the hard disk, 2.5 kilograms approximately 22% than the product it lightened weight until recently.  As for shipment, as for price it differs from at January of next year depending upon specification, but 300,000 Yen level first half is anticipated from 200,000 Yen level latter half.  Total 20,000 you aim toward the sale of the sealed professional who is in 2 years. According to the same company, raises toughness, supposes the use with the outside as for market scale of the personal computer which, 2005 approximately 20,000 unit. You say that the extension of year 20% is continued from the fact that purpose of the personal computer is spreading.  Simply, the personal computer for the outside has become monopoly "of the tough book" series of Matsushita Electric Industrial Co., Ltd., at NEC, with sale of the sealed professional, it is the thought of liking to assure the rollback.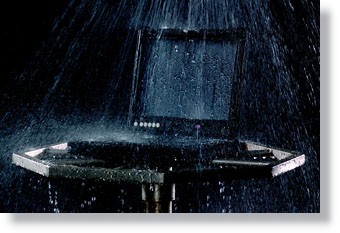 The machine should be available next month for 300,000 Yen or $2,700 dollars.
One more thing…Subscribe to my newsletter and get 11 free network administrator tools, plus a 30 page user guide so you can get the most out of them. Click Here to get your free tools