The search bar in IE 7 can be convenient. You can customize it to use any search engine you want. Even your own home brew search engine if you want.

It can get really annoying if you already have search software installed from Google, or Yahoo. Who wants two search bars when you only need the one you want?
Microsoft never put an option in the settings for IE 7 to disable or remove it, but you can set a registry key to make it go away.
If you open this key:
HKEY_LOCAL_MACHINE\Software\Policies\Microsoft\Internet Explorer\Infodelivery\Restrictions
And create a dword value named "NoSearchBox" and set it to 1. The search box will be gone. Set it back to 0 and it will be back again.

For those who don't like messing with the registry, we have made a utility that will do it for you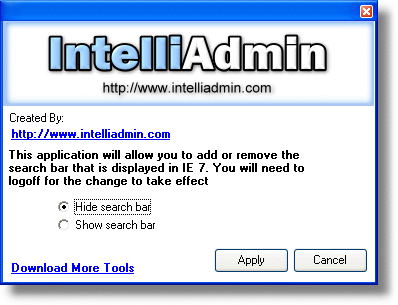 Get it from our downloads section – As always no spyware, or adware…only freeware goodness!
One more thing…Subscribe to my newsletter and get 11 free network administrator tools, plus a 30 page user guide so you can get the most out of them. Click Here to get your free tools