I would have never thought we would have gotten so many emails for a Windows 98 DST Patch.
If you missed it, we have created an unofficial patch for Windows 2000 that updates it to the new Daylight Saving Time enacted here in the United States. Microsoft is not providing one since Windows 2000 is no longer supported.
Well, over the last week we have received over 500 emails asking for a Windows 98 patch. Many people are still using 98 as a fax server, print server, or just a simple workstation. So…we figured why not make a patch? Testing on Windows ME gave me the willies, but other than that it is not much different than Win NT/XP/2003
The registry keys are a little different. For example, a simple one is \Windows\ is used instead of \Windows NT\
They also shortened the name of the time zones, in Win9x, so "Central Standard Time" is only "Central".
Daylight saving time is simply broken in Windows 95, so I wouldn't even bother trying to apply the patch to these systems.
The patch can be called from the command line with these parameters (That way you can put it in a logon script):
/QINSTALL – Silent Install
/QUNINSTALL – Silent Uninstall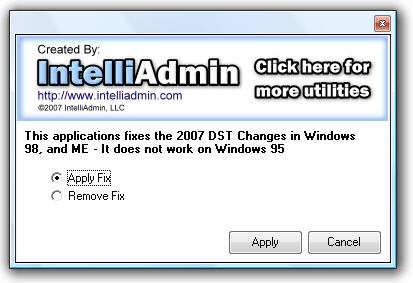 To get your hands on it, visit our downloads section
For those that are interested, here is the source for the registry changes – In Delphi Object Pascal
One more thing…Subscribe to my newsletter and get 11 free network administrator tools, plus a 30 page user guide so you can get the most out of them. Click Here to get your free tools