The Windows Vista Hardware Assessment is a tool released by Microsoft that will allow you to scan your network and determine what computers are ready to run Vista, and Office 2007.
Using WMI it creates a detailed inventory of each computer, and will provide recommendations for hardware upgrades.
The latest version can be downloaded from here
The nice part is that it does not require the deployment of agent software on the computers being inventoried and assessed.
The bad part is that it downloads and installs SQL Server 2005 (Express Edition). So I would take care in picking the machine you will install it on. Why? Because I have seen a few cases where one application that uses SQL Express clobbers another app that is also using it.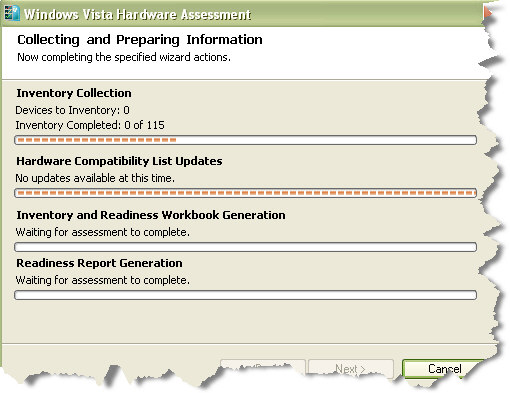 It can store information, and generate reports for up to 25,000 computers. To successfully complete inventory, you will need local admin rights, and make sure you enable the "Remote Administration" and "File and Printer Sharing" firewall exceptions on each computer.
It will take about 2 to 3 seconds for each system (Could be longer or shorter depending on your network speed). Once it has completed it will generate two detailed reports. One of them is in Excel, and the other is in Word.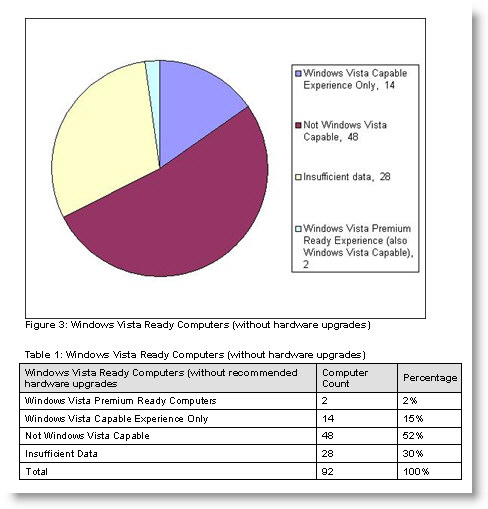 After looking through the reports you will have a good idea of how many systems need to be upgraded before they are Vista ready.
It is a nice tool that I recommend using if you are thinking about upgrading your network to Windows Vista.
One more thing…Subscribe to my newsletter and get 11 free network administrator tools, plus a 30 page user guide so you can get the most out of them. Click Here to get your free tools