Once and a while we visit local customers. It is a great way to see our software working in the real world, and find out what we can do to make our products better. Many times I will be asked to solve an issue (That has nothing to do with our software)
This week while visiting a customer I was asked if there was a simple way to create a batch file (No VB Script) that would reset the default home page of IE 6. For various reasons they could not use Active Directory, nor could they use VB Script.
I started to play around with the command line options of regedit, and discovered it was not going to work. After some research I came across the reg.exe command. It seems like it is built into XP, 2003, and Vista. It is perfect for what I needed.
It allows you to modify/delete keys from the command line. Here is what I came up with: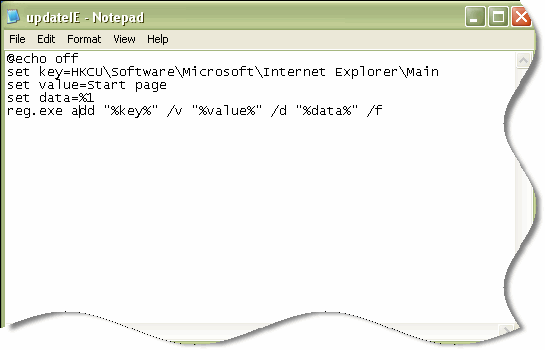 I saved it as UpdateIE.bat. Now I can simply call it like this:
UpdateIE "http://www.intelliadmin.com"
It updates the local users IE home page, and very easy to add to a login script
(Below is the script source so you can copy and paste it)
@echo off
set key=HKCU\Software\Microsoft\Internet Explorer\Main
set value=Start page
set data=%1
reg.exe add "%key%" /v "%value%" /d "%data%" /f
One more thing…Subscribe to my newsletter and get 11 free network administrator tools, plus a 30 page user guide so you can get the most out of them. Click Here to get your free tools