I don't know if it is a bug in IE, or if my Nephews are playing a game with me. Suddenly over the weekend I started to get prompted for the parental controls password
Hmm. I do not know the password…since I never set one. If I try to turn it off or modify it by going into Internet Explorer settings…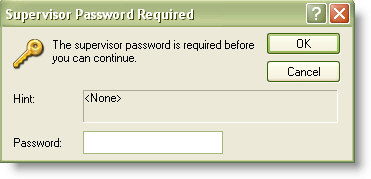 Quick search of the net and I discover that you can simply browse to this key in the registry:
HKEY_LOCAL_MACHINE\Software\Microsoft\Windows\CurrentVersion\Policies\System
See the key that says Ratings?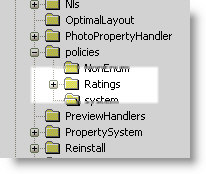 When I deleted it I was able to get back into IE again.
Now I can browse to any site I want, without being asked for a password.
Update: Just got a note from a reader:
Steve,
Um…you just told my kids how to get around the parental controls. Thanks!
David

David – Actually not. If you only allow your kids to have a non administrator account they cannot access the HKEY_LOCAL_MACHINE key in the registry.
One more thing…Subscribe to my newsletter and get 11 free network administrator tools, plus a 30 page user guide so you can get the most out of them. Click Here to get your free tools