Back in 2007 I wrote an article on how to backup your auto-complete data in Outlook. This tip is for Outlook 2003 – even though I don't mention it – it works for Outlook 2007 too.
What is Auto-Complete? When you start typing out an email address, outlook will automatically start filling it out for you.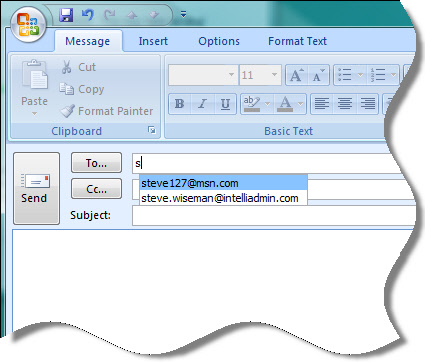 I showed you how to delete these items, but what if you wanted to add items to the auto complete list? Well…I have found just the tool to do that. It is called NK2View from NirSoft.
If you download a copy of it, and run it will automatically find the N2K file for the current profile. See my old article on how to find this file yourself – you might want to do this before using this tool so you can back it up. After running the program, you will see items in the auto-complete database (N2K file).
You can delete items, edit them, export to HTML, and the best part…you can import contacts from your Outlook contact list:
This can be a life saver. If a machine blows up, and you want to restore a decent auto-complete list for the user, you can use it to import their contact list from Exchange.
All in all it is a great tool. Best of all it is free. Make sure you backup your N2K file before saving, since you never know what crazy things Microsoft will do with future patches to break a great tool like this.
One more thing…Subscribe to my newsletter and get 11 free network administrator tools, plus a 30 page user guide so you can get the most out of them. Click Here to get your free tools