I was making the rounds this weekend to visit family and friends. I was asked the usual…"um while you are here…do you think you could take a look at a little computer problem we are having?"
In each case, the system was loaded with spyware. The funny part is all of them were using Comcast, so they had the free Anti-Virus from McAfee. Not one of these systems showed any alerts that McAfee had found anything. Full system scan – nothing. It is true McAfee is Anti-Virus, and not Anti-Spyware – but I would argue that just because a program does not self-replicate does not mean McAfee should ignore it.
Same held true for AdAware. I did a complete scan with AdAware. Every time I would see there were 533 "Threats". What were those threats? Cookies. Yep those pesky cookies. All of them were used to keep state in a well known web application like gmail. I think about 1% were from spamvertisers.
The first computer I looked at had this interesting piece of malware called "Internet AntiVirus Pro". To the average user it looked like a real anti-virus product, and it would find all kinds of "viruses" on your system. It scared the heck out of my Uncle. He was considering paying the $91 fee they were suggesting to remove the "problems"
Take a look at one of the screens: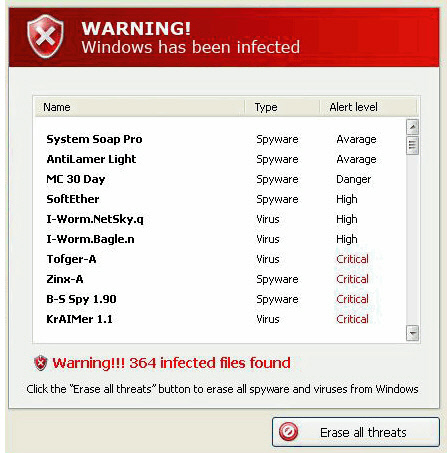 You get a very professional payment form when you click on "Erase all threats" 89.95 + 1.95 activation.
I tried removing it by hand with no luck. Finally I tried SpyBot – Seek and Destroy – don't let that website scare you. It really works. On every single system I cleaned Spybot did the job.
What about anti-virus? On Sunday I was at my Aunt's house. I decided I would make a pre-emptive strike. "How is your computer I asked?". "Fine" She said. Hmm. They have two teenagers that are constantly downloading everything and anything. "Can I take a look?"
Sure enough, SpyBot found nothing. Anti-Virus? I forgot that I had installed the free version of AVG a few months ago. They use DSL, and do not have Comcast….so no free McAfee.
Don't get me wrong. I know this is just a single case – but I don't think I will ever use McAfee again. If it misses that much how can I possibly trust it?
So this post is a question. What anti-virus are you using, and what has worked the best for you?
Email me at support@intelliadmin.com or post a comment in the article.
One more thing…Subscribe to my newsletter and get 11 free network administrator tools, plus a 30 page user guide so you can get the most out of them. Click Here to get your free tools