Hello Folks,
This is the last beta of Enterprise Remote Control. We are on track to release the final version on June 1st.
If you don't know what the heck I am talking about, check out the this article…it will explain more.
Here are the latest download links:
The viewer:
http://www.intelliadmin.com/reflector_client5.exe
The Enterprise Agent: (You install it on computers you want to control)
http://www.intelliadmin.com/reflector_agent5.exe
The Enterprise Server: (Manages all the connections)
http://www.intelliadmin.com/reflector_server5.exe
At the same time we are going to release the standard edition 5.0. If you are not interested in the Enterprise server, and just want to try out computer to computer remote control, then use this agent (Same viewer for both versions):
http://www.intelliadmin.com/setupex5.exe
Enterprise edition setup instructions can be found here:
What was fixed
We fixed many bugs. Here are some of the highlights:
-Windows 2008 TS issue that would cause a lockup at logoff
-Viewer does not respond to maximize, restore, or minimize
-Agents staying offline, when they are actually online
-Multiple monitors on the x64 version caused the screen to get scrambled.
-Agent tray icon not showing when it should
There were lots of little annoyances, and issues that have been resolved.
During the last month we have completed more work on the capture engine in the agent. Back in December we did many things to improve performance. We added a mirror driver, included remote cursor support, and re-worked the code that detects changes on the screen.
This time around we focused on those customers that need to view remote machines without detection.
With Windows 7, and Vista end users could easily see that you were connected. Why? Because the agent would disable those translucent glass effects to improve performance.
The problem with that is the translucent glass effects are very hard to capture properly, and make the remote control experience very annoying.
Our solution? Custom craft code that would detect, and work around the glass effects.
If you notice in this screen shot: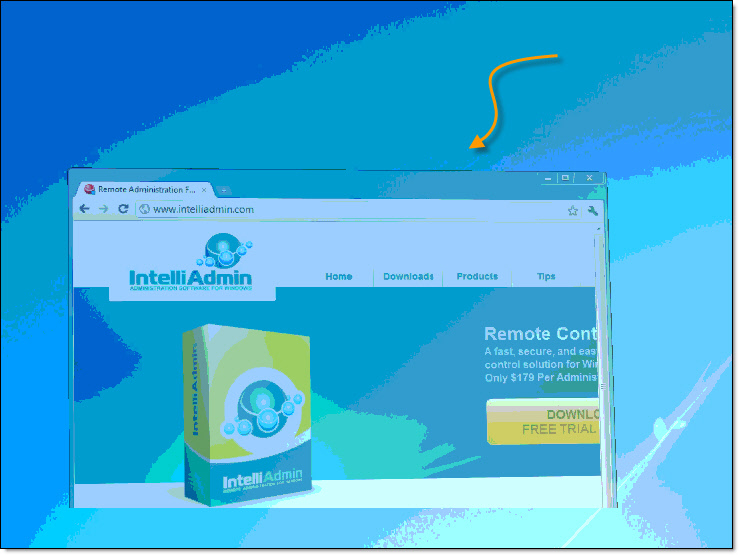 A 'ghost' image of the browser was left behind (It was minimized when this shot was taken, and the background should have been shown.
With this new agent, you can still connect with glass enabled, and have a smooth connection.
Keep in mind it will be slower because of the additional graphics – but the option is there when you need it.
If you want to setup your viewer for 'observation mode' these are the settings you would use:

On the other side, if you are worried someone will use the product to illegally spy on people, there is a solution for that too.
Go to the user account settings in the Enterprise server. Pick the settings that make it obvious that someone is connected, or even force them to ask permission first: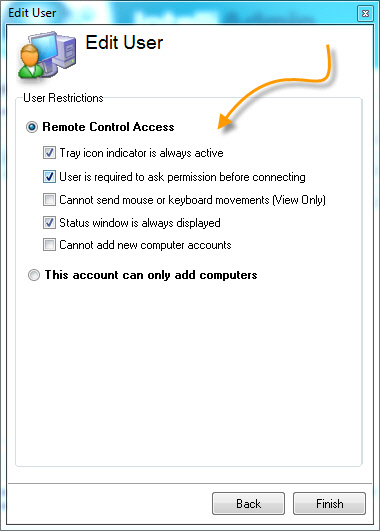 When this is done, the viewer cannot override them.
Viewer Update
We have changed the layout of the command bar at the top of the viewer:

It is simple change, but I know you will be much happier with this. One click to send CTRL-ALT-DEL was a constant request – Done
Enterprise Server Change
We changed the permissions for users in the Enterprise Server: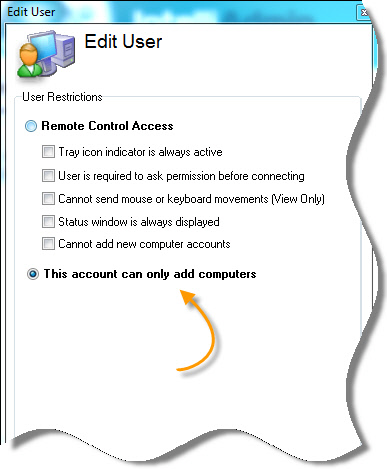 The screen shot above shows that you can create a user that *only* has permission to add new computers, and has no permission to control computers.
This allows you to use a "zero remote access" account for agent setup – important if you want others to install the software.
Even more important if you want to generate a zero configuration (User can run setup without typing in any settings at all) agent install from our website: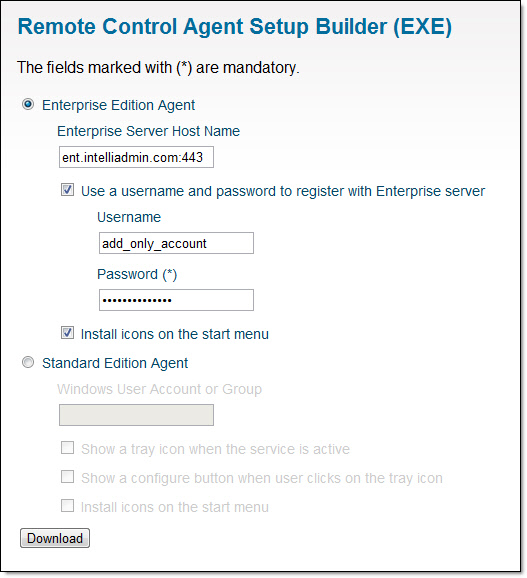 You can include the username and password in the install, and the setup builder will encrypt and package it with the setup file. Still, if by some chance it is compromised you don't need to worry since you used a "Add Computer Only" account.
It can also create custom MSI files that can be used for group policy deployments.
The web based setup generator is in final review, and we will publish a link to it next week. Sorry for so many delays on this one – it was much tougher than we originally thought.
Agent Settings App Changes
We have updated the agent settings application to display the connection status to the Enterprise server: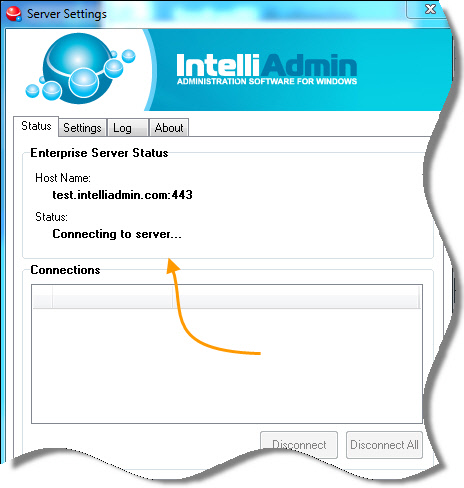 What is next?
This is it. What you see now will be the final version. Any changes from now until June 1st will be bug fixes.
If you find a bug let us know right away (Send it to support@intelliadmin.com) – we want to get any bugs resolved before the June 1st release date. .
Thanks again to all of the beta testers that have worked hard with us to resolve these bugs.
Give it a spin, and let us know what you think – Thanks!
One more thing…Subscribe to my newsletter and get 11 free network administrator tools, plus a 30 page user guide so you can get the most out of them. Click Here to get your free tools