We have been working hard on the next version of Network Administrator.
As we build out our new libraries for it, we are releasing free tools based on our internal framework.
It allows us to field test aspects of the execution engine, and at the same time you get a freebie.
Right now, the plugin system allows us to disable usb flash drives, or change power settings, etc… but it is limited in the fact it can't report back detailed information.
The latest tool that we are releasing, allows you to get a history of all USB flash drives that have ever been mounted on a computer.
You just pick a computer (Use localhost for the current computer), hit start, and it shows you a complete report: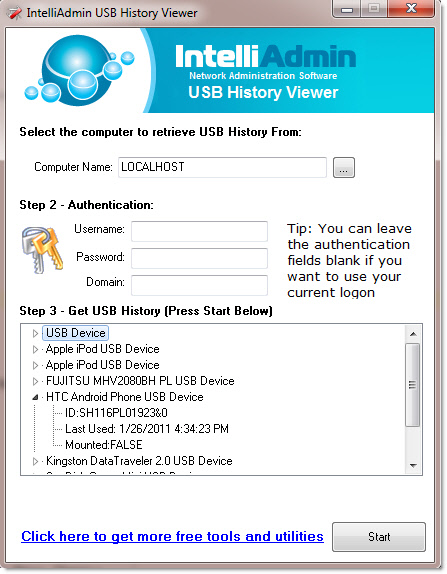 It includes the device ID, a date and time stamp of the last time it was used, and it will even let you know if it is currently mounted.
You can download it from our downloads page:
http://www.intelliadmin.com/index.php/downloads/
Oh, and by the way. This type of functionality will be included in the next version of Network Administrator. If you purchase today, it will be a free upgrade.
One more thing…Subscribe to my newsletter and get 11 free network administrator tools, plus a 30 page user guide so you can get the most out of them. Click Here to get your free tools