I have been seeing this message on and off with attachments for some time now in outlook:
Can't Create file: VoiceMessage.wav. Right-Click the folder you want to create the file in, and then click properties on the shortcut menu to check your permissions for the folder
In this case it was a voicemail. Sometimes it is a PDF file, other times it is a BMP. The only connection I started to notice was the name of the file.
After some research I discovered that Outlook saves every single attachment you download – in a temp folder. If the same file name exists, it simply appends a number like this: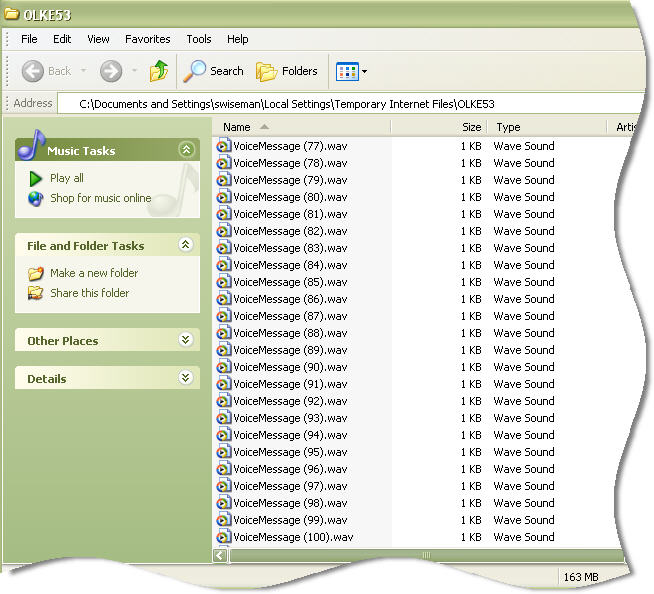 The only problem is that it gets stuck at 100. Once you have had 100 attachments with the same name you get the error message I described.
The trick is finding *where* outlook is storing all of this.
Update August, 2010 – We just created a utility that will clean up this folder for you. Look for the Outlook Cleanup Tool in our downloads section.
For more information about the download, visit this page
Microsoft decided that they would create a random folder name to keep viruses and maleware from finding this folder and exploiting it to their advantage.
The folder path can be found under this key:
HKEY_CURRENT_USER\Software\Microsoft\Office\11.0\Outlook\Security
See the variable on the right named "OutlookSecureTempFolder" – That is your path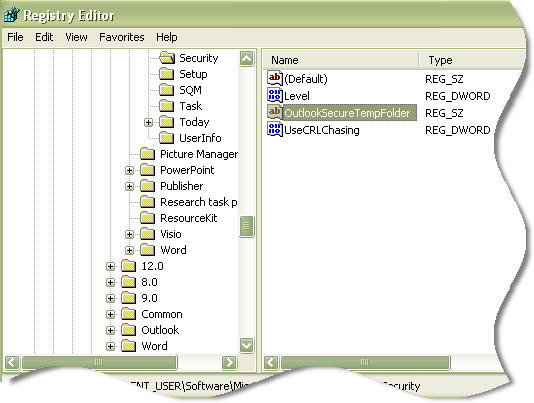 Now that you know where the files are you can simply clear them out from time to time, and the error will go away.
Still, I am a little irritated that this problem has not been fixed by know in a service pack, or a patch. Hopefully Outlook 2007 does not have the same issue.
One more thing…Subscribe to my newsletter and get 11 free network administrator tools, plus a 30 page user guide so you can get the most out of them. Click Here to get your free tools