Back in 2007, I wrote an article about an error that you get in Outlook when you have too many attachments of the same name:

Even Outlook 2010 has this problem.
In the article, I walk you through deleting these files by hand.
It is not an easy thing to do. You need to open the registry, find a key…then use that key to find a random folder name.
I thought it would be cool if we could build a utility that would do this for you. So, that is what we did: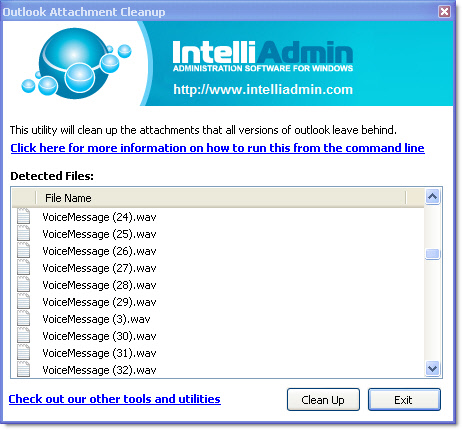 It will automatically scan your registry, find all Microsoft Outlook attachments, and then display them to you in the main window.
If it all looks like stuff you want to remove, you just hit the "Clean Up" button and it will delete them for you.
Here comes the bonus. You can run it silently from the command line.
What would you need that for?
You might have user that opens lots of attachments, and runs into this bug all the time.
Here is how you can have it run without any prompts:

OutlookCleanup.exe /SILENT

It will quietly scan through your registry and find the temp folder and empty it. Throw this in a batch file and have it run at logon – you will never have to deal with this problem again.
Another thought came to mind while working on this: This is a security problem too.
While email is on your Exchange server…it is relatively secure. Not knowing this you might open a sensitive document, read it, and when you are finished – delete it. Unknown to you, Outlook has just made a copy of it and it is sitting right there on your hard drive. Waiting for someone to grab.
Until MS provides a fix, you can use this little utility to keep your Outlook attachments clean. I wouldn't hold your breath waiting for an update – this bug has been around since 2002.
Get your copy from our free downloads page
One more thing…Subscribe to my newsletter and get 11 free network administrator tools, plus a 30 page user guide so you can get the most out of them. Click Here to get your free tools