We have been working hard on the new version of IntelliAdmin Remote Control.
Some things that will be in the new version:
Screen scaling – The client will automatically shrink the view to fit the screen within the window. With huge resolutions, you no longer are forced to constantly scroll around
Alpha Capture Disable – Applications like Office 2007 need alpha capture turned on, or parts of their windows will not be sent back to the remote client. This was always turned on in 3.x. Once side effect of this setting is the mouse flickers with some video cards. Now you have the option to turn this off and keep the mouse flicker to a minimum – great if you are given the task of watching a user without them knowing.
Screen Shots – You can easily save the current view in the client window to a JPG file. This is good for keeping a visual log of crash events, or activity of users.
Auto-Reconnect – When a connection is lost, it will automatically attempt to re-establish the connection
Computer Lists – We have loaded it up with options for getting lists of computers. You can get them from Windows Networking like you do right now, but in addition you can import them from an XML file, add them manually, or update them in real time from a http URL – this allows you to create a common computer list that all administrators can see and use.
Computer Search – This is the big one. When talking with customers the biggest complaint is finding a single computer among 1000s. When remote control connects to a machine, it will pull username, computername, and operating system info. All of this is stored in a database. When you click on the find button in the client window, you are shown a full listing of computers: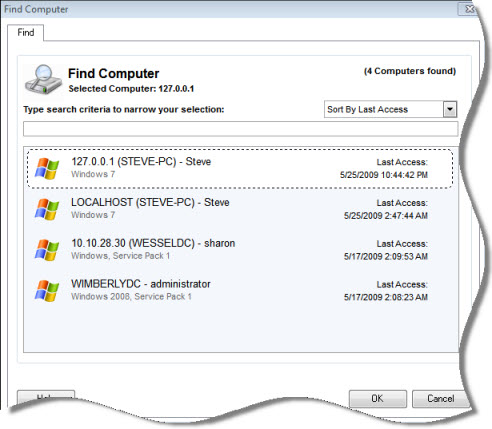 When you start typing in the search box at the top it will narrow down your results immediately. So, if you get a call from a user you can simply start typing their username and their computer will be automatically filtered out – no more digging around for their IP address, or computer name.
Lots of time was spent to make sure this was efficient – we threw the client on an old XP machine and it was able to search 10,000 computer records in less than 1 second.
Everything about the "find computer" section was designed to reduce the time it takes to find and control a computer, and make you more productive.
Why am I teasing you with all of this? Because I want you to join our beta program. To join, simply follow this link:
Make sure you check the 4.0 beta option.
The final release date will be June 27th. If you order Remote Control 3.2 right now the upgrade protection option will allow you to get a free upgrade when it comes out – a good deal since this will give you close to 40% in savings
While we are at it. What do you want to see in 4.5? File Transfers, Chat, or what other wish do you have for the next version. Post in the comments.
One more thing…Subscribe to my newsletter and get 11 free network administrator tools, plus a 30 page user guide so you can get the most out of them. Click Here to get your free tools