Last weekend I fixed up an old machine of mine. I was about to give it to the local Salvation Army.
They will take your old computers, clean em up, and then sell them at one of their outlet stores. They then take the money and put it to good use.
Before I brought it over, I remembered I had used it to do my taxes year after year. Even though I did a format and reload, I wanted to make sure all of that info was gone.
I found the perfect tool to do this. Best of all, it is free. It is called Darik's Boot And Nuke. It is very simple. You download the ISO, burn it, and boot with it.
When it boots, you are given a few options: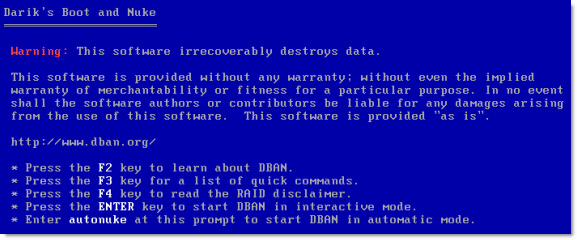 Press enter to get to the menu (It won't start erasing yet). Go into the Wipe options, and you can tell it what type of erase you would like to perform. There are quicker ones, like the Department of Defense (Short):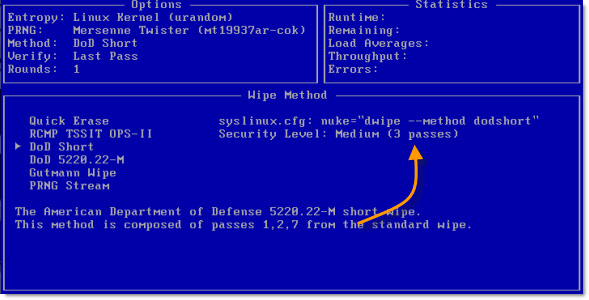 It only makes 3 erase passes. This is good enough for most situations. But if you really want to make sure it is all gone you can go with the Gutmann Wipe – 35 passes!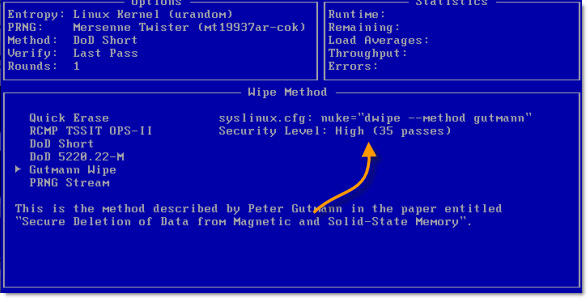 Just remember, the more passes, the longer you will need to wait.
Go back to the main options screen, and hit F10 (Wait! This will totally erase your hard drive – all your data will be toast. Yea, you knew that)
It will start nuking your drive: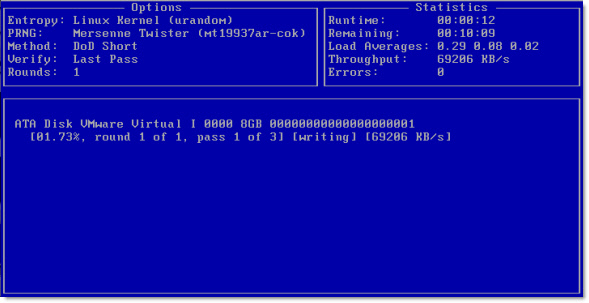 Once it is finished, you can load your favorite OS, and sell it on eBay, or give it away – no worries that someone will get your private info.
One more thing…Subscribe to my newsletter and get 11 free network administrator tools, plus a 30 page user guide so you can get the most out of them. Click Here to get your free tools