For quite some time we have had a product called Profile Generator.
It is a command line application that you can drop into a logon script. Once it is there, users can launch Outlook and get right into their email. No more setup wizards, and no more support calls for those users that roam from location to location.
One of the problems with it – all of the options are passed to it via the command line. In addition, it was missing a few features that people asked for over and over:
-Enabling, or disabling cached mode
-Delete all current profiles
-Setting a connection to an Exchange server via HTTP
We started cramming all of this into the command line. It was a mess. Too many options.
Our solution? We decided to take some technology from our Remote Control product. This new tech will allow users to generate custom versions of the Remote Control agent by making selections on a web page.
The remote control stuff isn't ready yet, but with profile generator, we saw we could easily move it to the new system since it is only a command line application.
Here is how it works. You visit this web page:
http://www.intelliadmin.com/index.php/outlookprofilegeneratordownload
And pick your options – Make sure you at least fill out the exchange server host name…it won't complain yet if you don't (I did say it was beta right? 🙂 )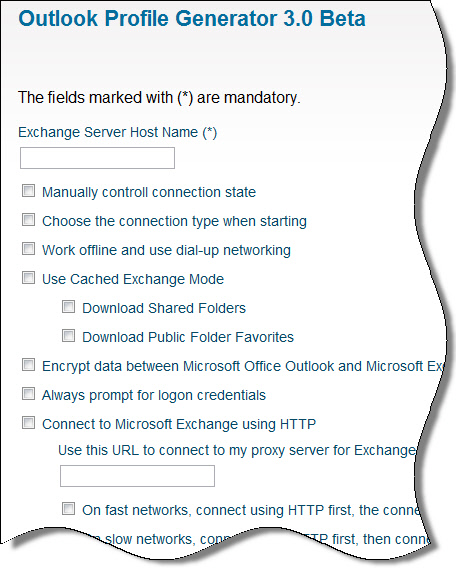 If you are a current customer, don't forget to put in your serial number at the bottom.
Click download, and you have a custom build of profile generator that is designed for your network.
Simply add it to a users logon script, and the next time they login they can launch Outlook without hassles.
This starts the public beta today. If you purchase Profile Generator now, you will get an upgrade for free. All current customers will also get a free upgrade. If you purchased before November 2005, or do not have your serial number handy…send us an email at support@intelliadmin.com and we will take care of you right away.
Please send your bug reports to support@intelliadmin.com. If you see a feature you want added, let us know…we will try to get it in before the final release.
One more thing…Subscribe to my newsletter and get 11 free network administrator tools, plus a 30 page user guide so you can get the most out of them. Click Here to get your free tools