Last week I wrote about a free tool from Nirsoft – A kind reader, Mike, let me know about another one of their tools:
Hey Steve,
Thanks again for tips you send each week. I just wanted to point out that Nirsoft has quite a few useful tools. One of them that I use every year for our software audit is ProduKey. It allows you to gather the product keys used on computers across your whole domain. And just like the password utility, it is free!
I checked it out, and it is a great way to grab serial numbers of Microsoft products.
You can use the gui interface, and just see the product keys on your own computer: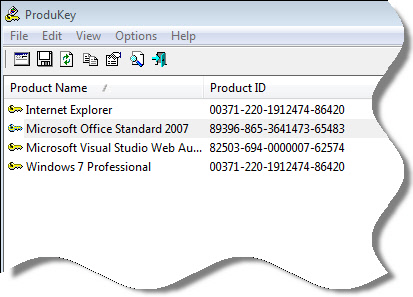 It also has an unbelievable number of options for pulling information from other computers or even drives where windows is installed: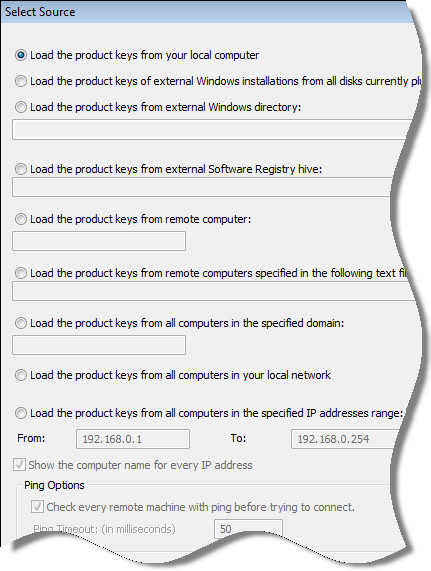 In addition to the gui interface, you can call the application from the command line:
ProduKey.exe /stext "c:\temp\info.txt" - Output current computer product information to a file
ProduKey.exe /remote \\server01 /stext "c:\temp\info.txt" - Output a remote computer's product information to a file
ProduKey.exe /iprange 192.168.1.10 192.168.1.50 /stext "c:\temp\info.txt" - Get product information for computers in an IP range
ProduKey.exe /remotealldomain MyDomain /stext "c:\temp\info.txt" - Get product information for all computers within a domain

Download it, and get a list of all the command line options here:
http://www.nirsoft.net/utils/product_cd_key_viewer.html
One more thing…Subscribe to my newsletter and get 11 free network administrator tools, plus a 30 page user guide so you can get the most out of them. Click Here to get your free tools