In response to monitor your file sharing, Michael sent me a tip about a program that allows you to watch folders for changes:

Thought this little freeware tool might be useful for your readers. I use it for monitoring changes on a shared documentation drive used for software installs. Now if someone modifies the documentation, I can find out straight away & confirm the changes are correct.
It is called DirectoryMonitor.
Once installed, you can easily add folders you want to watch: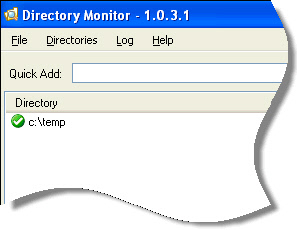 You can determine what changes you want to watch for…such as a new file, delete, edit, or rename.
Once you register a folder for changes, the change is immediately logged in the main application window: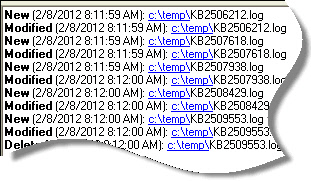 You can even setup an application to execute when a change occurs:

Some feature do require a donation of $10 or more to be activated…such as silent execution of apps when an action is triggered.
Otherwise it is free for personal or commercial use.
You can download it from here:
Directory Monitor Download Page
One more thing…Subscribe to my newsletter and get 11 free network administrator tools, plus a 30 page user guide so you can get the most out of them. Click Here to get your free tools