I received an email from Jennifer this week:
"Howdy Steve. I want to thank you for all the tips and ideas. I ran across this small utility that I think your readers might like. It is called Share Watch. It lets you keep track of what files and folders are being accessed by remote users"

She is right. This little utility is great.
Yes, Windows has a built in share monitoring service:
But, it is kind of clunky and limited. It really has not changed much since Windows 2000.
What is nice about Share Monitor is that it puts all of the information in one spot: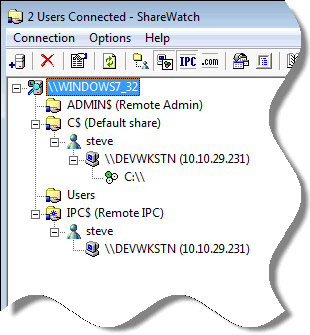 Plus, unlike the windows share monitor…you can watch a bunch of computers at the same time: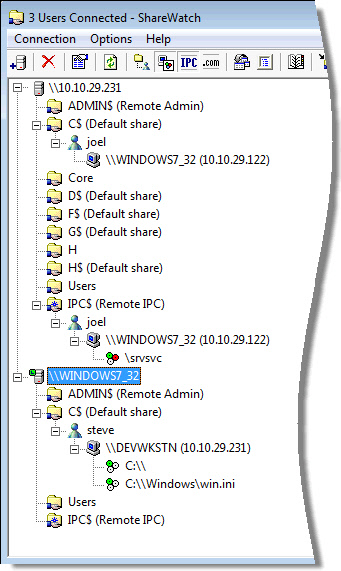 It has easy access to information about the computers connecting to a share: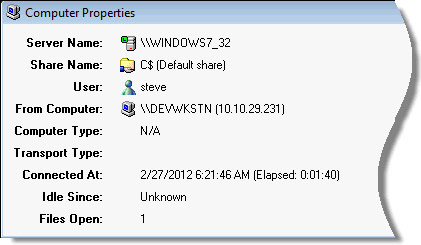 And the files that are currently open across a share: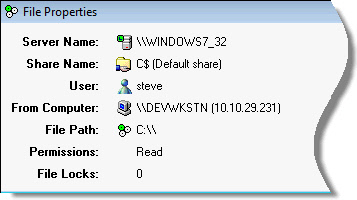 Plus, like a lot of our utilities – No install is required. It is one small exe.
Best of all, it is free for personal or commercial use.
Get it from the Share Watch website:
http://stevemiller.net/ShareWatch/
PS: If you run it under Vista, or Windows 7…make sure you right click and run it as administrator or you will get access denied.
One more thing…Subscribe to my newsletter and get 11 free network administrator tools, plus a 30 page user guide so you can get the most out of them. Click Here to get your free tools