Back in 2006 we created an IE 7 blocking tool. It set a special registry key that would tell Automatic Update to totally skip IE 7 when it was released.

Now the same can be accomplished with Internet Explorer 8. Yes, I do realize that it is still in beta, and has not even been released to the general public – but that day will come. Most companies will have trouble with at least one or two critical websites that simply will not work with it. To give us time to adjust Microsoft has published a registry key to block IE 8.
To block the automatic install you can open regedit, and browse to:
HKEY_LOCAL_MACHINE\Software\Microsoft\Internet Explorer\Setup\8.0
If the key(s) do not exist, you will need to create them – most likely they will not since you probably have never installed IE 8!
Then under that key, you can create a new DWORD value called DoNotAllowIE80
Set its value to 1
Now Automatic updates will skip IE 8.
If you don't like to plunk around in the registry you can do this with the latest of our free (Up to 3 computers) Network Administrator: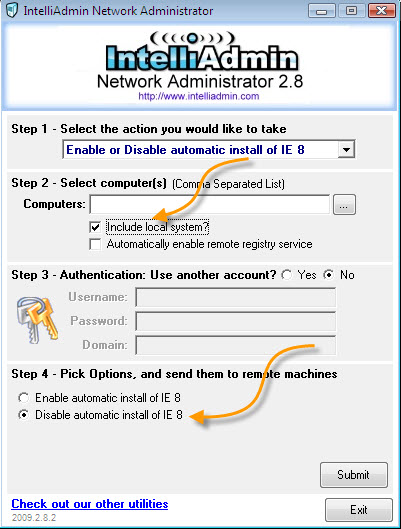 If you want to use it to disable it on your own computer, check the "Local System" Box, Select disable, and hit submit – you are done.
Or, you can even use it to disable it on a number of computers across your network: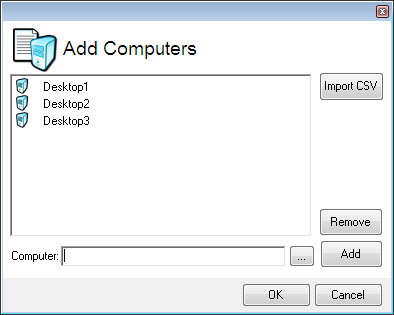 Microsoft has indicated that the registry key will never expire – this is a change from their original position with the IE 7 blocking key. It was only to last for 12 months after the release of IE 7. I decided to go back and see if they changed the wording on the IE 7 blocking tool website – and they have. It too is now a permanent key.
One more thing…Subscribe to my newsletter and get 11 free network administrator tools, plus a 30 page user guide so you can get the most out of them. Click Here to get your free tools