I have a group of log files that I need to upload every day to an archival server. For a long time I have been doing this by hand.
I wanted a way to do this without using any extra software – just the default tools available in windows.
I found a clean solution that uses a batch file, and the scripting capabilities of FTP.
First, lets start with the criteria.
I have a group of files, all named XXX.log that I want to FTP to my server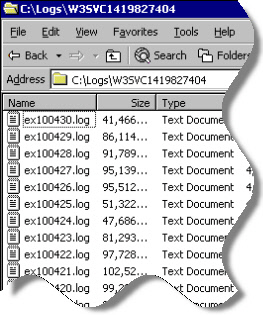 So what is our first step?
Lets start with a batch file that will list all of the files ending with .log in the current directory. We can do this with the for .. in command:
for %%f in (*.log) do @echo %%f
Simple enough. Execute it in the folder with our files, and we see our output: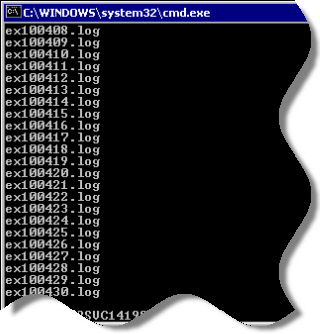 Now, we can use that information to build our FTP script. Let me show you a simple FTP script that can upload one file:

open hostname
administrator
Password2000
bin
put SomeFile.log
quit

If you save the above as a text file (Lets call it script_file.txt), and then feed it to the FTP program like this:
ftp -s:script_file.txt
The FTP program will run through the commands and upload the file.
So now we have both parts that we need. Lets write a batch file that will build a temp script file, process it with FTP, and then remove the temp file:

@rem ===============================
@rem = FTP Script Made by =
@rem = http://www.intelliadmin.com =
@rem ===============================
@REM = Set the name of our temp script =
@set SCRIPT_NAME=FTP_SCRIPT.FTP
@REM = Generate our FTP Script
@echo open [host]> %SCRIPT_NAME%
@echo [username]>> %SCRIPT_NAME%
@echo [password]>> %SCRIPT_NAME%
@echo bin>> %SCRIPT_NAME%
@echo hash>> %SCRIPT_NAME%
@REM = Loop through each file that matches our wildcard
@for %%f in (*.log) do @echo put %%f>> %SCRIPT_NAME%
@echo quit>> %SCRIPT_NAME%
@REM = Now call FTP with our generated script
@ftp -s:%SCRIPT_NAME%
@REM = Delete our temp script file and we are done
@del %SCRIPT_NAME% /q

It will generate our script file, fill it with the files that match our criteria (*.log), and then execute FTP with it. When it is finished, the temp file is removed.
Note that if you want to use it, change the [username], [password], and [host] to your own values. You can even change the file criteria (*.log) to any type you need to upload – or even all of them if you use *.*
Now, you can easily add it to task scheduler, or even add it as a batch command when your backups are complete.
Next week I will show you how to email yourself the results each time it is run.
One more thing…Subscribe to my newsletter and get 11 free network administrator tools, plus a 30 page user guide so you can get the most out of them. Click Here to get your free tools