I got a question from Darren:
"Steve, been using the free edition of Network Administrator. Nice tool, but it is missing something we need. I see you have the ability to shutdown and reboot systems, but what about logging off users?"
Good question. I remember when I would do after hours upgrades – and one of the big issues was a user that would leave an app open that was part of the upgrade. After the it failed we would have to start making the rounds to see who left it up and running.
It would have been great if I could have just hit a few buttons and forced all computers to logoff.
That is now possible with Network Administrator – we have added the option to the shutdown section: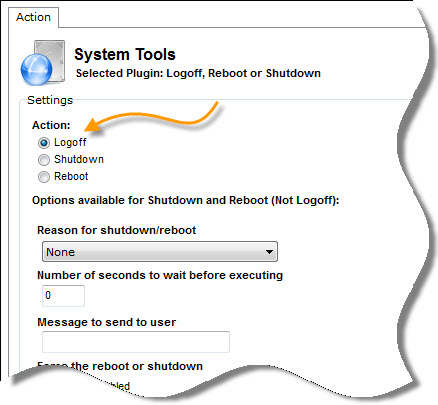 It works on 2000, XP, 2003, Vista, Windows 7, and 2008 – even the 64 bit versions.
Just select the logoff action, pick your machines, and start logging them off:
It is a totally free tool if you don't need to use it on more than 3 computers at the same time. Get it from our download page:
http://www.intelliadmin.com/index.php/downloads/
One more thing…Subscribe to my newsletter and get 11 free network administrator tools, plus a 30 page user guide so you can get the most out of them. Click Here to get your free tools